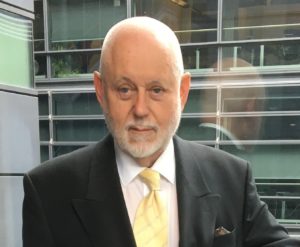 Dear AMCHAM Members, Partners and Friends,
Welcome to your AMCHAM Newsletter for 1 June 2023!
Last Thursday evening, 25 May, the Japanese embassy put on a really terrific screening event of a 2017 Japanese zombie/comedy movie called One Cut of the Dead at Utopia to a full house of enthusiastic invited guests. The film told the story of a group of small-time ,dedicated Japanese actors trying to make a very low-budget zombie horror movie. This was a hilarious film, brilliantly executed by a great cast of actors. My most sincere thanks to the Ambassador, his wife and their young embassy team for promoting contemporary Japanese culture by bringing this film to Luxembourg. Absolutely brilliant and a night I will long remember!
If you missed our feature interview with the Japanese Ambassador which we published last week, please find it again, HERE.
This week we are shifting our focus a bit to concentrate on talking about activities at the Spangdahlem Air Base across the border in Germany. Tomorrow, I will be attending the change of Command ceremony at the air base during which Colonel Leslie F. Hauck will give up his position as the Wing Commander after brilliantly serving for the past several years and working tirelessly to ensure the 52nd Fighter Wing's promotion of US and NATO defense interests in multiple ways; including overcoming Covid challenges while very strongly contributing to US efforts supporting NATO during the recent Ukrainian military conflict.
Spangdahlem Air Force base is one of the most important US Air Force bases in Europe. We hope you enjoy our feature interview with Colonel Hauck and especially invite you to pay attention to his leadership advice. Our thanks also go to US Ambassador Barrett for his letter of congratulations and thanks honoring Wing Commander Hauck, Czech Ambassador Vladimír Bärtl for authoring his excellent article about our historic private Aero club "Fly-In" with the NATO Ambassadors resident in Luxembourg, and the article provided by the air base which explains the history and mission of the base.
As another indication of US friendship and support for Luxembourg, I was honored to present a wreath of remembrance, respect and thanks during the Memorial Day event at the US Cemetery this past Saturday, 26 May, as I have done every of the past 25 years representing the AMCHAM community and our friends. As every year, I appreciated hearing the thanks and positive comments expressed by the Luxembourg government representatives who attended and the floral tributes from over 20 Luxembourg social and charitable organizations who joined the event to express their thanks and appreciation of the American sacrifices to ensure Luxembourg's freedom and prosperity.
As Ambassador Barrett knows well coming from Wisconsin, there are now more persons of Luxembourg historical ethnicity living in the United States than remain living today here in Luxembourg. I am very glad the ties that bind the US and Luxembourg together are so strong and pledge that we in AMCHAM will always do all we can to keep this relationship equally solid and mutually beneficial!
We are very pleased that more and more of our members are offering us articles of interest to publish as public service content. Unlike most news publishing organizations, we do not charge any fees to publish news article in our weekly digital newsletter. We only require that all articles we publish contain good and solid news of interest to our readership. Our members are smart! They do not like infomercials… but are eager to read solid news! We do are best to give you, our readers, exactly what you want! If you have an article or other useful content you are interested to publish, please contact: communication@amcham.lu
If you missed our article of last week with the essay update on the pending change of Luxembourg law to simplify the granting of Non-EU spousal work permits, please find that article HERE.
Thank you for letting us serve you!
With respect and our very best wishes,
Paul
Paul Michael Schonenberg
Chairman and CEO
AMCHAM.lu