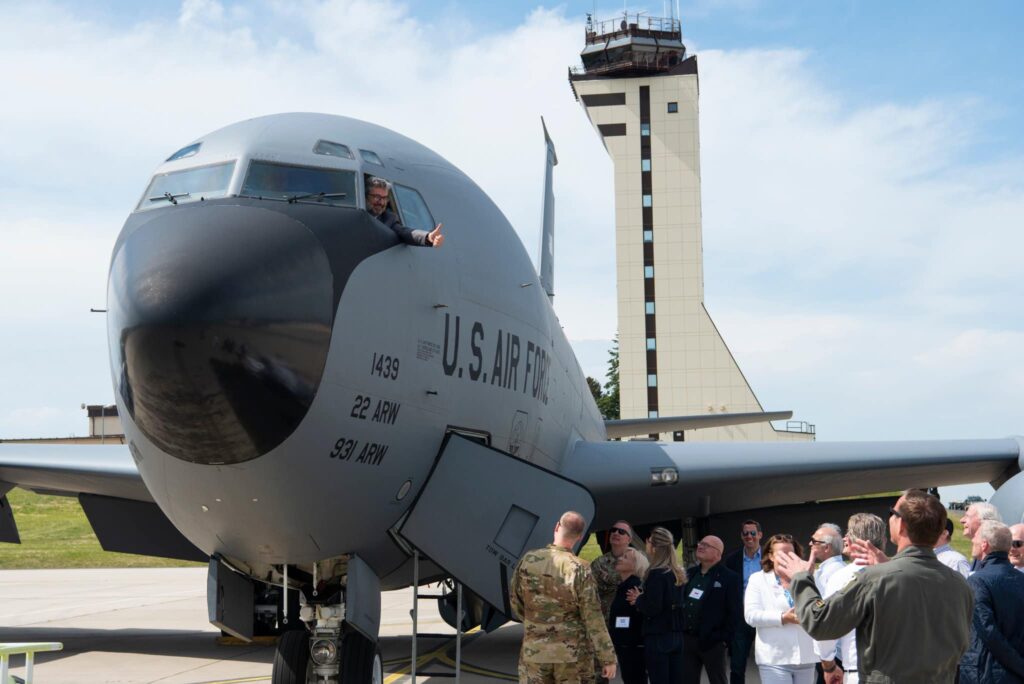 Spangdahlem Air Base and the 52nd Fighter Wing
Spangdahlem Air Base is home of the 52nd Fighter Wing, which maintains, deploys and employs F-16 Fighting Falcon fighter jets to deter and combat aggression. The Wing supports the Supreme Allied Commander Europe with headquarters in Ramstein, Germany, and falls under the 3rd Air Force and U.S. Air Forces in Europe major command. The base population currently counts about 10,000 Americans, of which 3,000 are military personnel.
 Spangdahlem Air Base was built from 1951-53 alongside Ramstein, Sembach, Hahn, Zweibruecken and Bitburg Air Bases in the state of Rhineland-Palatinate. It was opened on Sept. 1, 1952 with the arrival of the 7352d Air Base Squadron from Fuerstenfeldbruck Air Base near Munich. Several other squadrons arrived at the base shortly after.
Between May 10, 1953, and Dec. 31, 1971, Spangdahlem AB was host to four different commanding wings – the 10th Tactical Reconnaissance Wing (1953-1959), the 49th Tactical Fighter Wing (1959-1968), the 36th Tactical Fighter Wing (1969-1994) and the 52nd Tactical Fighter Wing (now the 52nd Fighter Wing, 1971-present). During this time, the mission shifted from operating nighttime reconnaissance missions in its first six years to becoming the first and only all defense-suppression wing outside the United States in 1991, capable of locating and destroying enemy radar-guided surface-to-air threats in all weather.
As part of the base's growth since 1994, Spangdahlem AB has received contributions of more than $285.4 million by the Federal Republic of Germany and $65 million by NATO in addition to the U.S. Department of Defense's more than $1.3 billion investments into the installation. The installation has several times in the past years been awarded the "Commander in Chief's Annual Award for Installation Excellence" for technical standards and quality of infrastructure. Following the closure and return of Bitburg Air Base to the German Federal assets in 1994, operations from Bitburg AB were transferred to Spangdahlem AB. Furthermore, despite reducing its number of flying squadrons from four to just one F-16 squadron by 2013, the installation has expanded from 4-6 square km.
Geographically Separated Units and international mission support
The wing supports and administers nine geographically separated units throughout Europe, including  detachments in Llask, Poland; Geilenkirchen (Germany), Kleine Brogel AB, Belgium; Büchel, Germany; Volkel AB, Netherlands; and Ghedi AB, Italy.
In 2005, in the framework of the Rhein-Main Air Base closure, Spangdahlem AB gained the 726th Air Mobility Squadron. The additional mission has since been operating with C-17 Globemaster III and C-5 Galaxy cargo aircraft, as well as supporting cargo and passenger traffic of all Air Mobility Command aircraft transiting the base to sustain air mobility operations throughout Europe, Africa and Southwest Asia. In 2021, the 726th AMS has also provided support multinational cargo and passenger aircraft participating in Operation Allies Refuge/Operation Allies Welcome bridging refugee flow from Afghanistan to Europe and the U.S. .
Due to its unique location as gateway to Europe and from there to Africa and the Middle East, Spangdahlem Airbase functions as an epicenter for missions in the Middle East and Africa. Most recently, Spangdahlem Air Base has taken on a crucial role for generating and projecting NATO's airpower in support of NATO operations in the Ukraine conflict. It fulfills an important role to increase readiness and NATO's collective defense, enhance NATO's ability to operate together and further increase air integration capabilities with Allied and Partner nations. For this support, F-35A Lightning IIs, KC-135 Stratotankers and EA-18G Growlers were temporarily stationed on the base.