Date: May 27, 2022
Address: U.S. Embassy Luxembourg
                22, Bd. Emmanuel Servais
                L- 2535 Luxembourg
Public Affairs Office: +352 46012324 or - 21
Email: LuxembourgPublicAffairs@state.gov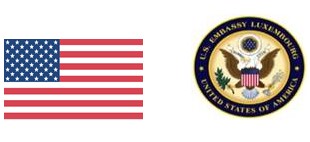 Press Invite
Rainbow Flag Raising at the U.S. Embassy Luxembourg
To mark the beginning of Pride Month in the United States, U.S. Embassy Luxembourg is pleased to invite members of the press to attend the rainbow flag raising ceremony
on Wednesday, June 1, 2022 at 16.00
at U.S. Embassy Luxembourg
(22 Bd Emmanuel Servais, 2535)
The ceremony will also be attended by representatives of the Luxembourg government, members of Luxembourg LGBTQI+ civil society organizations, and representatives of other foreign missions. The flag raising will be followed by a reception which members of the press are welcome to attend.
Members of the press who wish to attend are kindly requested to register no later than on Tuesday May 31, via email: luxembourgpublicaffairs@state.gov
BACKGROUND
U.S. Embassy Luxembourg first flew the rainbow flag in June 2015 making the U.S. Embassy the first foreign mission to fly the flag in Luxembourg.
Pride Month is celebrated each year in the United States in June to honor the 1969 Stonewall Uprising in Manhattan, which was a tipping point for the Gay Liberation Movement in the United States. President Bill Clinton officially declared June as Gay and Lesbian Pride Month in 2000. President Barack Obama expanded the observance in 2011 to Lesbian, Gay, Bisexual, and Transgender Pride Month.
Today, celebrations are held during June to raise awareness on issues the LGBTQI+ community faces. Pride Month commemorates the ongoing pursuit of equal justice for the lesbian, gay, bisexual, transgender, queer and intersex community and celebrates the accomplishments of LGBTQI+ individuals and organizations.
For more information please contact the Public Affairs section at the U.S. Embassy in Luxembourg at +352 46 01 23 21/ 24 or at LuxembourgPublicAffairs@state.gov