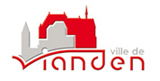 Press Release
Mayor Tonino and U.S. Ambassador Barrett Commemorate the 77th Anniversary of the Liberation of Vianden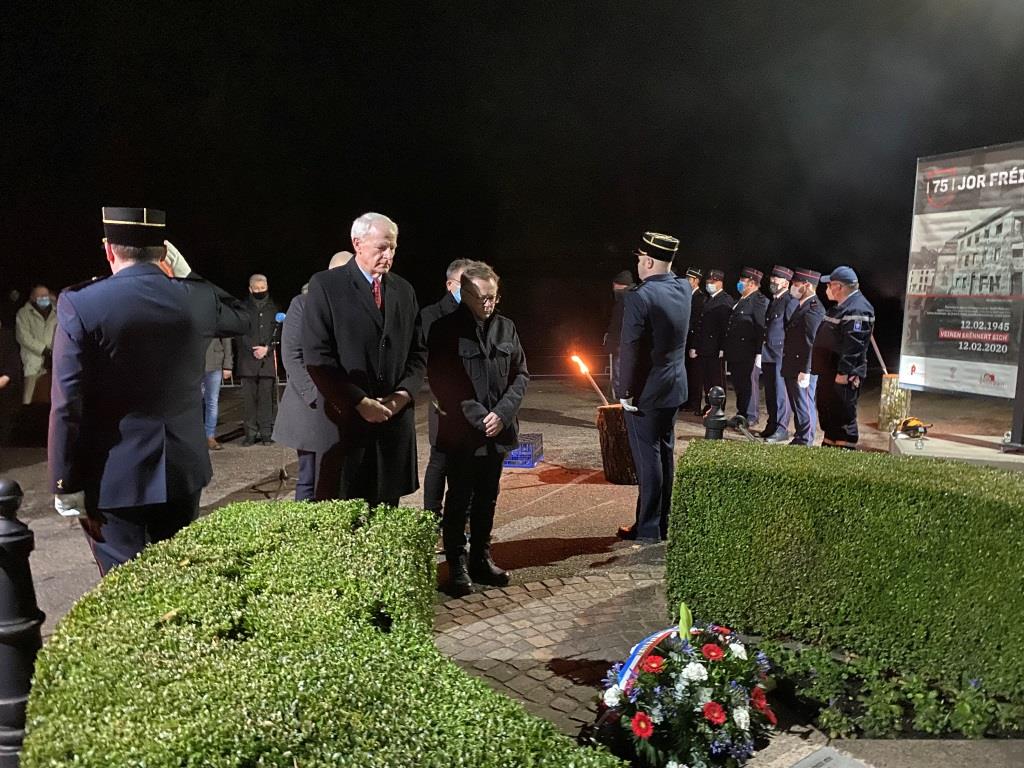 On February 12, the Mayor of Vianden, Claude Tonino and the U.S. Ambassador to Luxembourg, Thomas Barrett, laid a wreath at the U.S. Memorial in Vianden in honor of the fallen American servicemen, who fought for the liberation of Vianden in World War II.
Mayor Tonino said: "The community of Vianden is deeply honored to have had Ambassador Barrett join us in remembering and honoring the 11 fallen American soldiers of the 1255th Engineer-Combat Battalion, who gave their lives – the ultimate sacrifice – for our freedom. We will never forget these brave and honorable soldiers, young people full of plans, hopes and dreams, who never saw their homeland again, to give us back ours…".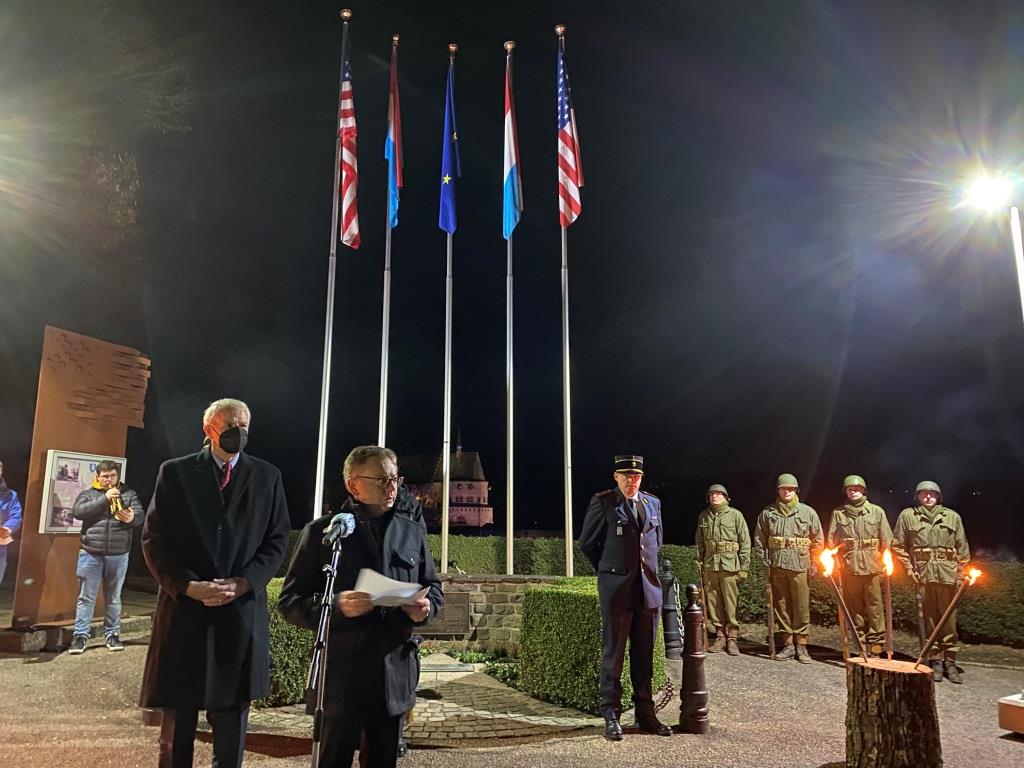 U.S. Ambassador Thomas Barrett commented: "For my first public engagement as United States Ambassador to Luxembourg, it was important to begin with an event that demonstrated the significance of the bond between our countries.  I am humbled by how much the people of Luxembourg still remember and cherish our common history in World War II, and most grateful to Mayor Tonino and the community in Vianden for keeping this commemoration tradition alive and ensuring that the American lives that were lost in liberation of Vianden are never forgotten."
This event was the first public engagement for Ambassador Barrett.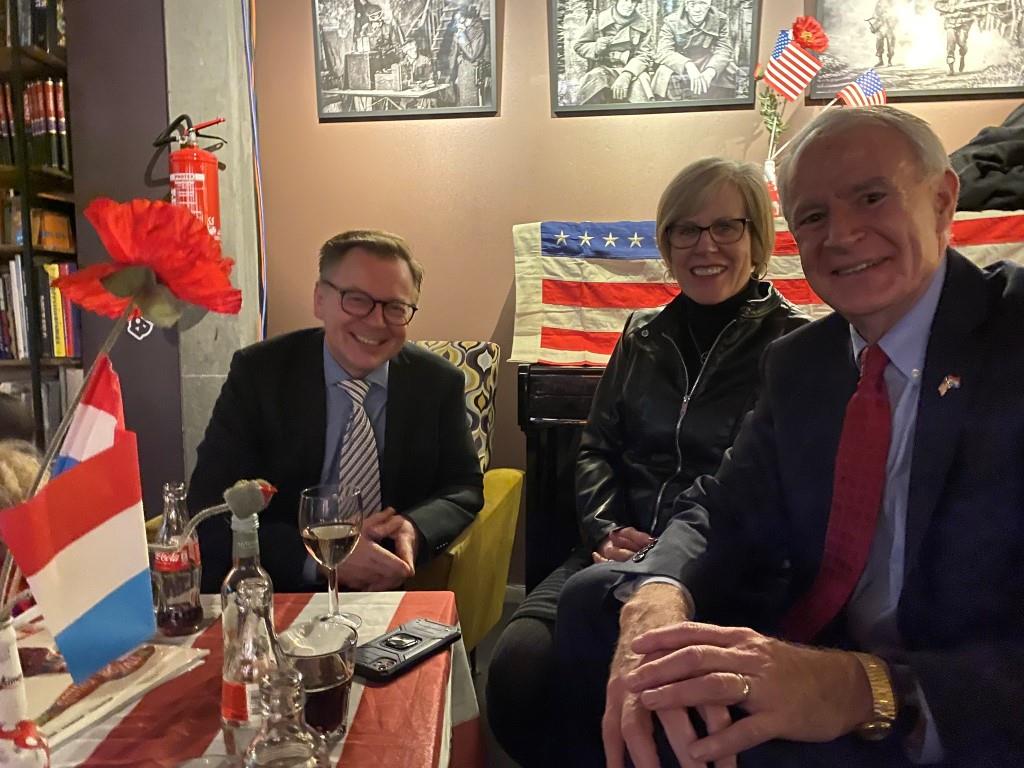 This year's commemoration was enriched by a premier of a documentary "The Final Liberation of Luxembourg February 1945", a zero-budget film created by Hoolux Productions with support from local history experts, Marcel Scheidweiler and  Roland Gaul, and volunteers from Luxembourg reenactment groups "Lux Yankees" and "Feldgrau" as well as the Dutch reenactment groups "The Bloody Bucket" and the "Medemblik Pontoon Group 40-45".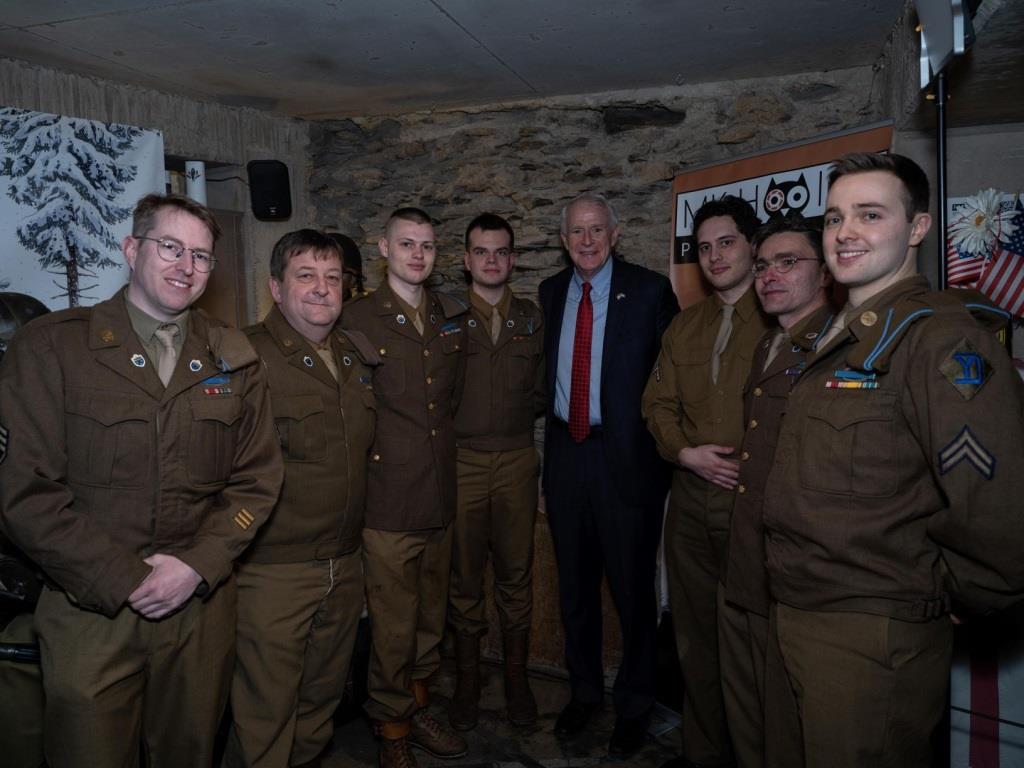 Background
Vianden was the last town in Luxembourg to be liberated by the American forces on February 12th, 1945, bringing an end to the occupation in Luxembourg. During the liberation, 11 members of the U.S. 1255th Engineer Battalion lost their lives. The names of those 11 men are listed on a plaque at the U.S. Memorial on the "Belvedere" promontory overlooking the Vianden Castle. Since 1984 on February 12th, the people of Vianden pay tribute to their liberators with a wreath laying ceremony at this Memorial.
Documentary "The Final Liberation of Luxembourg February 1945"
Focusing on Vianden, last Luxembourg town to be liberated by U.S. forces in WW II, a documentary consisting of historical narration, graphics and footage, supplemented by reenacted scene sequences, was made by HOOLUX Productions under the guidance of local "Battle of the Bulge" experts, Marcel Scheidweiler and  Roland Gaul.  So far, all of HOOLUX' documentaries are zero -budget productions, based exclusively on the voluntary cooperation of all participants. The film is "staged" by the Luxembourg reenactment groups "Lux Yankees" and "Feldgrau" as well as the Dutch reenactment groups "The Bloody Bucket" and the "Medemblik Pontoon Group 40-45"
The film is available on DVD and can be ordered via email mkhoolux@outlook.com (DVD/15€). Duration: 41 min., Language: Luxembourgish – Vianden accent, Subtitles: English. Trailer: https://youtu.be/GC6d-SYLmcY
Photos attached: U.S. Embassy Luxembourg and Christian Kieffer
For more information, please contact the Public Affairs section at the U.S. Embassy in Luxembourg at +352 46 01 23 21 or at LuxembourgPublicAffairs@state.gov