To keep Luxembourg strong and successful for all of our inhabitants, we need a strong Luxembourg economy.
For over 200 years, the United States has been a very strong friend and supporter of Luxembourg and has hugely contributed to the economic and political success we have enjoyed. No other country has contributed so much.
Our recent Trans-Atlantic trade and investment event event both celebrated and explained the details of this successful partnership with speakers and participants joining from both sides of the Atlantic ocean. Our most sincere thanks to Luc Frieden for his keynote address, Deloitte Luxembourg for hosting, the Luxembourg American Chamber of Commerce in New York, the Luxembourg Embassy in Washington D.C and it's Consulates in Chicago, San Francisco and New York, the US Embassy in Luxembourg, Susan Danger and her team at AMCHAM EU, Professor Dan Hamilton at John Hopkins University, Czech Ambassador Vladimir Bartl and the Ambassadors of Spain and Germany in Luxembourg and all of our guests attending in person and via digital connection.
Following are the specific details summarizing the bilateral relationship on trade and investment between the US and Luxembourg: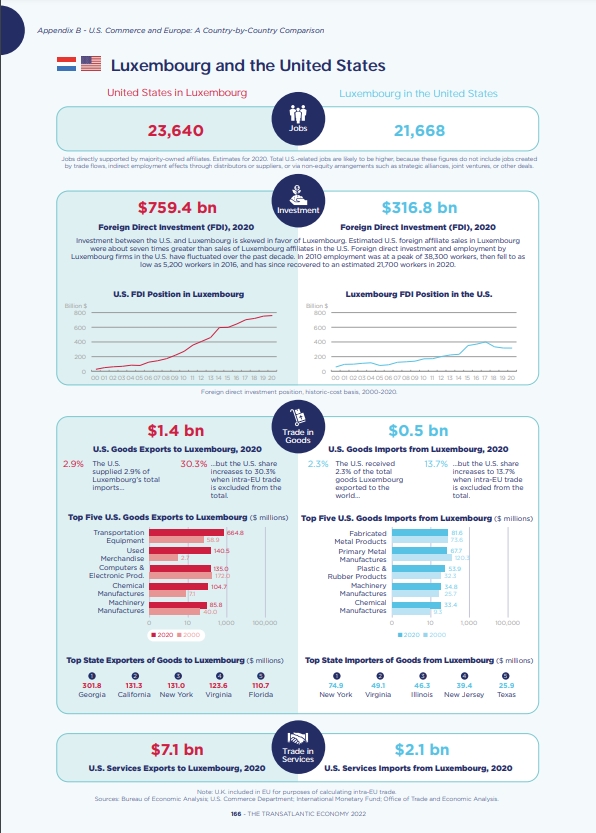 AMCHAM.lu is one of the 5 European AMCHAMs which provide funding sponsorship of this annual report.