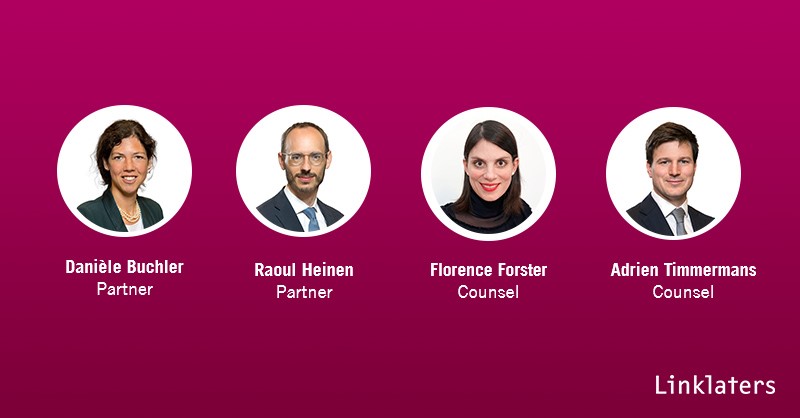 PRESS RELEASE:
Linklaters LLP Luxembourg appoints two new partners and two new counsel
We are pleased to announce that Linklaters Luxembourg is expanding its senior team with the election to partner of Danièle Buchler and Raoul Heinen and the appointment of Florence Forster and Adrien Timmermans as new counsel. All four promotions reflect both the talent and the expertise Linklaters enjoys.
 New partners 
Danièle Buchler, Tax, joined Linklaters in 2009. She assists investment managers in the set-up and tax structuring of joint venture companies and fund vehicles including on the downstream structuring across all asset classes. She also advises on the Luxembourg tax aspects of cross-border reorganisations. An active participant in many working groups of the Association of the Luxembourg Fund Industry (ALFI), she also contributes to the Young Tax Leaders and PE4W committees of the Luxembourg Private Equity Association (LPEA).
 Raoul Heinen, Investment Funds, specialises in the structuring, setting up and distribution of a wide range of investment funds with a particular focus on alternative funds. He also advises global financial institutions on a variety of regulatory matters, notably licensing requirements, major financial services regulations (e.g. MiFID, AIFMD, PSD, AML), and Luxembourg regulatory aspects of acquisitions and group restructurings. He also active in the FinTech sector focusing on EU payments regulations, digital assets and outsourcing.  Raoul is a member of several professional working groups in Luxembourg, at the level of ALFI and ABBL.
New counsel
 Florence Forster, Corporate M&A, joined the Linklaters Luxembourg corporate practice in 2011 and worked from the Paris and Frankfurt offices. She advises in corporate restructurings, mergers and acquisitions, joint ventures and private equity transactions, with a specific focus on the German market, working closely with the German Linklaters offices.
Adrien Timmermans, Investment Funds, joined Linklaters Luxembourg in 2014. He specialises in venture capital, private equity, real estate, infrastructure, credit fundraising as well as providing ongoing assistance to fund managers and promoters. In addition, he acts for investors in respect of their investments (including secondaries) into a variety of asset classes. He also advises on investment fund compliance and regulatory issues including AIFMD.
"With these appointments we are continuing to build a top tier leadership team with the skills and depth of knowledge needed to meet the complex needs of our clients and to navigate today's fast-paced regulatory landscape. We are committed to offering professional career development opportunities to all and are always delighted to see our people achieve their goals." Nicki Kayser, Managing Partner, Linklaters Luxembourg.
Ends
For further information, please contact Véronique Cioli, BD and Marketing Senior Manager, on +352 2608 8226.
 About Linklaters
Linklaters LLP is a leading global law firm, supporting clients in achieving their strategies wherever they do business. We use our expertise and resources to help clients pursue opportunities and manage risk across emerging and developed markets around the world. The firm counts more than 3,000 lawyers worldwide, the Luxembourg office counts 112 lawyers and a total staff of more than 160.