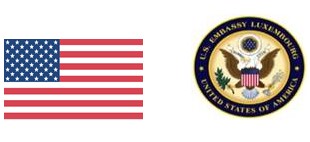 Highlights from the US Embassy 4th of July celebration:
"The U.S. Embassy in Luxembourg celebrated Independence Day with local leaders from the Government, Parliament, the business community and civil society. On June 29, approximately 300 guests joined Ambassador Barrett to celebrate Independence Day under the theme "let freedom ring."  In his speech, the Ambassador emphasized the close relationship between the United States and Luxembourg and the common defense of our freedom in the face of Russian aggression."
A few key passages from Ambassador Barrett's speech:
"This year we chose, as our theme for today's event, "Let Freedom Ring" -to remind us of the importance of this basic principle, that for many this struggle continues, and that we will continue to uphold the just fight for human freedom.
We have all seen in recent months historic events that have demonstrated not all nations believe in this ideal. What we have witnessed in Ukraine, a democratic independent country brutally and unjustifiably invaded by Russia, is unfortunate testimony that not even today can we take our basic freedom for granted.
But contrary to what the Russian state anticipated; the Ukrainian people have truly made "freedom ring" across the world. They have defended their homeland with true courage and resilience. This battle between autocracy and democracy and Ukraine's brave fight has united nations across the world to condemn the conduct of Russia and stand together for what we all know as truth: Freedom must and will prevail.  Let that ring loud and clear! 
I feel now that simple incremental building on our past successes may not be enough. We need to take our strong cooperation to the next level, and to take action to meet the challenges of this new reality:
Our joint peace and security demand we work together to further strengthen our NATO alliance and not be complacent with what we have achieved.
We must stand up more firmly than ever in the United Nations Human Rights Council to hold accountable those who violate human rights – fundamental to democracy- anywhere in the world.
And, upholding our shared democratic values above all other interests, even if that comes at a price, is essential to continued global freedom.
And from our Chairman Paul Schonenberg…
The American Embassy in Luxembourg hosted a terrific 4th of July party a bit early last week to an enthusiastic crowd of several hundred people of very high quality. Ambassador Barrett gave an eloquent speech touching on all of the right themes: Freedom, friendship, and fellowship.
He also mentioned the theme this week honoring LGBTQI. Most especially he honored Casey Mace and his family who were leaving at the end of the week to relocate to become the Deputy Chief of Mission in Singapore, and introducing his replacement, the new Deputy Chief of Mission just arrived from Washington DC, Michael Margolies Konstantino.
Leading the government attendees were Finance Minister Backes and Family Minister Cahen, joined by CSV President Claude Weisler  and a good number of Ambassadors. The menu was Summer BBQ followed by a good selection of ice cream! Enjoy the photos!