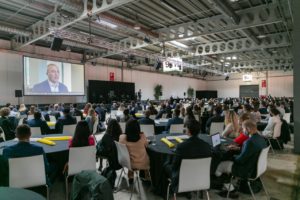 During the coming months, focused compulsory training awaits the young recruits who have recently joined EY.  (Photo: Romain Gamba/Maison Moderne)
EY welcomes 250 new recruits
EY has recruited 340 new staff from 80 different countries. The first 250 attended a traditional welcome ceremony on Thursday morning at Luxexpo.
EY chose Luxexpo on Thursday morning to welcome the first 250 of its 340 "new joiners", 80% of whom are young graduates from 80 different nationalities. The reception was meticulously staged.
Another 90 new recruits will arrive in October. "We divided the ceremony into two sessions to comply with health standards," said  Olivier Coekelbergs, country managing partner at EY. "It's a great pleasure to see people physically again. Last year we welcomed 300 new employees, but virtually. This is not the same. This year is a turning point: face-to-face, but no travel yet."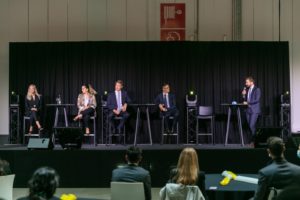 Of all the "new joines", 80% are young graduates. (Photo: Romain Gamba/Maison Moderne)
EY HR director Annette Boehm and her team led the event. (Photo: Romain Gamba/Maison Moderne)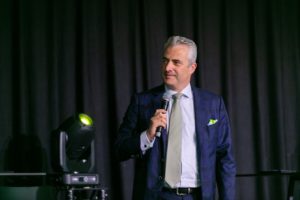 Olivier Coekelbergs, country managing partner at EY, reminded the "new joiners" of the particularity of the Luxembourg financial centre. (Photo: Romain Gamba/Maison Moderne)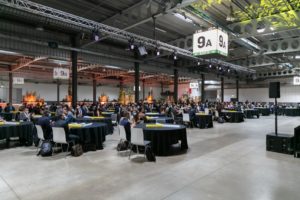 Corporate dress code and masks were compulsory at the welcoming ceremony which was held in person, unlike the one in 2020. (Photo: Romain Gamba/Maison Moderne)
The traditional integration trip – a common feature of several large firms – to forge a collaborative spirit and encourage teamwork, is not yet on the agenda. Instead, "a bus tour of the city followed by dinner in a restaurant and an escape game for small groups will be offered," explained Annette Boehm, HR director at EY. "The integration budget remains very high – although 30 to 40% lower than before Covid – but it remains profitable for us because we integrate qualified people," she said.
25% turnover
During the coming months, focused compulsory training awaits the young recruits, who will be taken care of differently depending on the position they hold. Managers are promoted or recruited throughout the year.
At EY, which on 1 January 2021 had 1,460 employees (+5% compared to 2020), the average age is 31. It's no secret that the Big Four are often the foundation on which young graduates base their careers, having benefited from on-the-job training that can lead them to pursue new avenues or strive to attain the coveted title of partner.
This is not necessarily to the detriment of the firm, as a well-trained candidate is a guarantee of external recognition. Annual turnover is between 20 and 25% depending on the year. "It's high, but it's part of the business model," says Coekelbergs, who is not afraid of the firm's growth objective of doubling its turnover by 2026.
Profiles capable of adapting
"The surveys we do with newcomers show three concerns: learning, finding meaning in their mission, and working for a company that respects D&I (diversity & inclusion) and CSR (corporate social responsibility) values," Boehm explained. The millennial generation does not want to live to work, as their grandparents did.
On stage at the welcoming ceremony, one of EY's managing partners acknowledged that working in an audit firm generates a form of pressure that one must learn to manage, while encouraging newcomers to "always ask questions, never stop reading and never underestimate a feeling of isolation."
Annette Boehm shared this benevolent attitude: "For some years now, we have been paying particular attention to the soft skills of candidates. We don't want standard profiles, but people who can adapt quickly to the changing world…people who have changed careers, people who have not graduated from top schools. A team is also successful thanks to the individuality of each person.