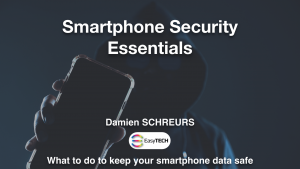 Since the birth of the iPhone in 2007, the smartphone has become our mobile device of choice, allowing us to be more connected and productive than ever.
With these extremely powerful mini computers in our pockets, containing private, confidential and sometimes sensitive data, it has evolved into an increasing target for hackers and government agencies alike from all over the globe.
Hence, it is of importance to understand the major threat vectors as well as how to reduce the risks of our smartphone getting hacked.
Since 2013, Damien Schreurs, owner and founder of EasyTECH, helps individuals, families and professionals make the most out of their Apple devices, increasing their productivity and security.
Besides Apple, Schreurs has a breadth of knowledge and expertise with Android, Windows, Linux and Office.
The conference will be split into three main sections, covering both Apple and Android:
Why bother protecting our smartphone
Different ways smartphone security can be compromised
What to do to protect our smartphone
Please join him on May 6th at the Cercle Munster @ 12.00 with lunch to get an overview of smartphone security best practices. Lunch for members €50 & non-members €60
Kindly register below
Purchase tickets
If a member invites and hosts non-members, the member has the option to purchase all of the tickets at the member fee price.
We're sorry, but all tickets sales have ended because the event is expired.
May 6, 2019
12:00 am - 2:00 pm