Dear Amcham members,
We are please to invite all of you to our next free webinar event in partnership with LACC in New York.
Date and Time
Tuesday, September 13th  2022 at 18:00
Description
A challenge heard again and again from anyone working in the U.S. or working for a U.S. company is that you have to be able to advocate for yourself in the American way. But not everyone knows how to promote themselves in this fashion!
Are you already working in the U.S. and need to brush up on these skills?
Are you coming to the U.S. and would like to have a leg-up on the working climate?
Or maybe you are working outside of the U.S. for an American company and could use a little insight into the corporate culture?
This workshop is for YOU!
Not knowing "the code" can leave professionals struggling to get noticed and get the opportunities and promotions they want.  And when you figure it out, it becomes so much easier to compete…and still be yourself
In this workshop, we'll develop The Impact Statement.  It's the Elevator Pitch – American Style.
You'll identify your top strengths and link them to the impact of your work
You'll learn language that allows you to highlight your impact, without boasting or feeling awkward
You'll learn when and how to use the Impact Statement for best effect
Join us for this cross cultural exploration.
Speaker Claire Steichen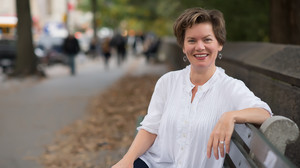 Claire Steichen, founder of Clear Strategy Coaching, is dedicated to teaching professionals how to be more successful by understanding how to leverage their skills, navigate their work environment, and find focus.
Claire supports team leaders who want to build confident teams that deliver extraordinary results. She does it using her  I to the 4th Power methodology, developed from two decades in corporate sales and marketing
(L'Oreal, Christian Dior, Givaudan), her MBA from Columbia Business School, and 14+ years coaching and training professionals at Fortune 500 organizations.
https://us02web.zoom.us/j/84472333323?pwd=TWFycTJSZHhwUm44SFFhR3FaM1UwZz09
Meeting ID: 844 7233 3323  / Passcode: 341827
Purchase tickets
If a member invites and hosts non-members, the member has the option to purchase all of the tickets at the member fee price.
September 13, 2022
6:00 pm - 7:00 pm