SGG's Group Management Board is delighted to announce the appointment of Christian Heinen as Managing Director of SGG Luxembourg S.A. and Member of SGG's Executive Committee.
Christian Heinen is responsible for driving the strategy for SGG's Luxembourg office within a fast changing business environment.  In his new role, Christian will report into Christiaan Van Houtven, SGG's Group Chief Operating Officer.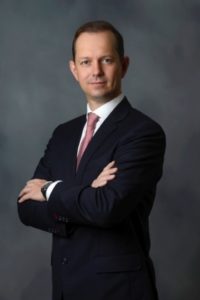 Christian has a wealth of experience in the financial services industry having held a number of senior roles in Luxembourg, Hong Kong and China. He joins SGG from Intertrust where he was until recently the Managing Director responsible for their business and operations in Greater China, with offices in Hong Kong, Shanghai, Beijing and Guangzhou. He also held senior management roles with Intertrust's Luxembourg office before moving to Asia in 2012.
He holds a degree in Economics and a special degree in Management Studies from Universite de Liege. He is a Belgian native and is fluent in German, French and English, with a working knowledge of Dutch.
Christiaan van Houtven said, "I am very pleased to welcome Christian to SGG. Christian has an in-depth knowledge of the corporate, trust and fund industry and has proven leadership skills in managing international firms within an evolving and intercultural environment. I firmly believe that Christian is the ideal candidate for this key role within our growing organization and both our colleagues and clients will benefit greatly from his appointment."
Christian Heinen added, "I am delighted to join SGG and to be part of its ambitious growth plan. SGG's business model is based on entrepreneurship and providing the best solutions for its clients. This is a philosophy that I totally adhere to and I look forward to contributing to the Group's continued success.  I am looking forward meeting all of my colleagues very soon so that together we can achieve our common goals and objectives.''