IM-MOBILITY pushes the boundaries
How our relationship with space has evolved? What are the foundations of our future means of transports? Artists and innovative businesses will try to provide answers through a multidisciplinary exhibition on the theme of mobility. Works of art, videos, prototypes, performances and conferences will be presented in Banque Internationale à Luxembourg's Galerie Indépendance and Heintz Park from 17 September 2021 to 14 January 2022.
Mobility is the freedom to move around in order to travel, work, learn, do business, see family and friends, have fun, shop and eat out. The health crisis that we are experiencing, which has restricted our movement and changed the way we interact with each other, has cast a spotlight on our ways of living and shown the extent to which mobility is a key factor. It has also highlighted the incredible way in which technology and means of communication enable citizens, communities, governments, and companies to adapt. Restrictions on movement did not bring business or socializing to a complete halt. But it forced us to do things differently.
A corporate citizen with more than 1,800 staff in Luxembourg, including nearly 700 cross-border workers, BIL is also faced with the question of mobility. The way we live and do business is changing, with remote working and new means of communicating and interacting with its clients. This is why we wanted to spark debate, launching a multifaceted discussion forum called IM-MOBILITY. Artists and experts set out their vision for mobility and present innovative transport solutions, current and future.
From 17 September 2021 to 14 January 2022, the IM-MOBILITY exhibition is filling public and private spaces at BIL headquarters on Route d'Esch, with work of art as well as videos, prototypes and innovative vehicles from companies and research institutes for which transport is a core issue. The Galerie Indépendance, Heintz Park, customer reception areas and other venues will be used throughout the exhibition. Conferences presented by our partners will also liven up the forum.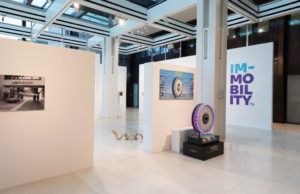 Discover the IM-MOBILITY exhibition, the latest news and the conference programme at www.bil.com/im-mobility
Artists:
11 renowned artists, from very different backgrounds, were invited to think about the ideas of mobility and immobility, and to present their creation: Roger Dornseiffer, Patrick Galbats, Marco Godinho, Hisae Ikenaga, Thibaud Latour, Spike and Stick, Frank Miltgen, Claudia Passeri, Gilles Pegel, Mike Zenari.
Works lent by the Luxembourg City Museum will also be exhibited.
Innovation partners:
Start-ups, research institutes, industrial multinationals and companies present innovative solutions: Goodyear and its self-regenerating tire, MDI and its AirPod, Moovee, Losch Luxembourg, Luxembourg Air Rescue, B Medical System, 360Lab at the University of Luxembourg (SNT).
Galerie Indépendance, Banque Internationale à Luxembourg, 69 route d'Esch, Luxembourg. Open every business day from 8am to 6pm, from 17 September 2021 to 14 January 2022. Heintz Park, always open.
About Banque Internationale à Luxembourg (BIL)
Founded in 1856, Banque Internationale à Luxembourg (BIL) is the oldest multi-business bank in the Grand Duchy. It has always played an active role in the main stages of the development of the Luxembourg economy. It currently operates in retail, private and corporate banking, as well as on capital markets. With more than 2,000 employees, the bank has branches in Luxembourg, Switzerland and China.
For more information, please contact:
Vincent Pelletier
Banque Internationale à Luxembourg SA
69, route d'Esch • L-2953 Luxembourg
Tel.: +352 4590 5046 – Email: vincent.pelletier@bil.com