Alter Domus, the fully integrated fund and corporate services provider is now able to offer third party Alternative Investment Fund Manager (AIFM) services and therefore continues to develop its vertically integrated range of services for the alternative funds market.
The acquisition of Luxembourg Fund Partners, a Super Manco with Chapter 15 (UCITS) and AIFM authorisations, founded in 2009 and one of the first Luxembourg based independent management companies to comply with the Alternative Investment Fund Managers Directive (AIFMD), was completed on 28th December 2017 following approval from the Commission de Surveillance du Secteur Financier (CSSF).
Following the acquisition, the company has changed its name to Alter Domus Management Company S.A., a wholly owned subsidiary of Alter Domus, providing solutions for international fund managers seeking UCITS or AIFM services in an open architecture operating model. Services include providing portfolio management, risk management, oversight functions and marketing support for EU registration and distribution as well as offering investors regulatory reporting services in compliance with the UCITS and AIFMD regulations.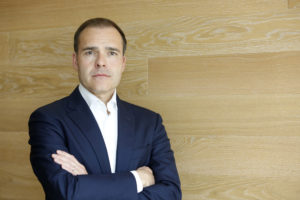 Chief Executive Officer of Alter Domus, Laurent Vanderweyen, commented "Thanks to this acquisition, Alter Domus is now able to offer an enhanced vertically integrated solution to asset managers looking to access the European Market for distribution of funds with alternative strategies in a homogenous and regulatory controlled environment. This has always been the aim and the spirit of the AIFMD. Furthermore, this acquisition consolidates Alter Domus' position as the recognised leader in fund services and provides a compelling offer to asset managers seeking a "one stop shop" AIFMD solution across the European alternative funds market."
Ilias Georgopoulos has been appointed Board Member of the Alter Domus Management Company for setting up and leading its strategic direction and development as well as supervising the integration of the overall Super ManCo in the Alter Domus Group. Ilias has over 20 years' experience working in the Fund industry in PERE and UCITS. Prior to joining Alter Domus in December 2017, he spent 12 years at RBC Investor Services Bank S.A. where he was a member of the Executive Committee responsible for Client Strategic Development.
We are also pleased to welcome Antonis Anastasiou who joined the Alter Domus Management Company in February 2018 as Managing Director and Conducting Officer responsible for leading the day-to-day management. He brings more than 10 years of experience in the Super ManCo field where he previously held various operational and portfolio management positions focusing on alternative asset classes as well as listed investments and he has been instrumental in the set-up of 3 Super ManCos in Luxembourg.
Alain Delobbe joined the Alter Domus Management Company in December 2017 as Head of Operations and Conducting Officer responsible for the daily operations for AIFs and UCITS as well as the oversight of all delegated functions. Alain has over 20 years industry experience and prior to joining the firm he worked for UBS Luxembourg Financial Group Asset Management and BlackRock Operations Luxembourg.
Ilias commented "I am very proud to be part of Alter Domus with its impressive growth track record, client and quality focused teams and unparalleled diversity of client base. I am sure that with the strong support of the entire Alter Domus Group to our new Super Manco, the voyage will be a great success in 2018 and in the years beyond and I am convinced we will quickly transition to become the leading pan European Management Company for international fund promoters."