Alter Domus, a fully integrated provider of Fund and Corporate Services to alternative investment managers, is pleased to announce that it completed the acquisition of Cortland Capital Market Services LLC ("Cortland") in the US on 22 March 2018.
Headquartered in Chicago and with offices in New York, London, Los Angeles, Austin, Indianapolis, and China, Cortland is a leading independent investment servicing company providing third-party fund administration and middle and back-office outsourcing to financial institutions, including alternative investment managers, real estate private equity firms and credit funds. It currently has over USD 200bn of assets under administration. The firm was founded in 2008 by Doug Hart CEO, Russ Goldenberg, Tim Houghton and Lora Peloquin who are all former Senior Executives at LaSalle Bank (the former US banking and trust subsidiary of ABN AMRO). Cortland currently employs over 400 experienced professionals who have joined Alter Domus as part of the acquisition.
The acquisition of Cortland represents a key milestone for the development of Alter Domus' private equity, real estate and debt offering. Cortland is a dynamic business with an impressive portfolio of clients in its own right and Alter Domus will be able to leverage the expertise of the senior management team to expand its offering into other jurisdictions. Cortland's clients will also benefit from Alter Domus experience and the suite of services that it can offer to operating companies in over 19 jurisdictions around the world.
Laurent Vanderweyen, Chief Executive Officer of Alter Domus said, "We are delighted to welcome the Cortland team to Alter Domus as a major step in our long-term strategy to develop the US market as one of our key locations in offering vertically integrated services to our international client base. Cortland has an impressive track record of growth, a strong management team, and the same focus on quality and client service which has been at the core of Alter Domus' own success over the years. Our combined services offerings will provide our clients and prospects with seamless access to Alter Domus' global reach of offices and service lines for all of their U.S. and international needs. In the coming months I look forward to the integration of the teams and welcoming Cortland clients to Alter Domus."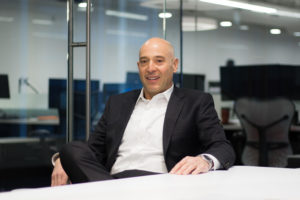 Doug Hart, Chief Executive Officer of Cortland added, "This is a very compelling transaction for Cortland, its employees and its clients. Alter Domus has established itself as one of Europe's premier fund administration and corporate services companies, and the firm's service offerings and geographic footprint in Europe and Asia serve as an excellent complement to Cortland's capabilities and client base. Becoming part of the Alter Domus Group gives us the ideal platform to expand our real estate and private credit service offerings and accelerate the expansion of our market leading loan services solutions deep into Europe and Asia Pacific. With the combination of these two companies, the Cortland team and I look forward to working alongside Laurent and the Alter Domus teams to create the global leader in alternative investment servicing."
Doug is now Regional Executive North America for the Alter Domus Group and he has a seat on the Group Executive Board.
Please address any questions concerning Alter Domus' services in North America to Doug Hart on +1 312 564 5100.