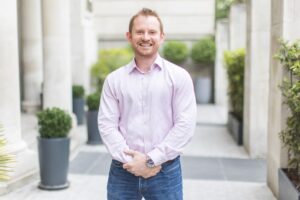 International commercial interiors specialist Agilité has marked its continued growth with the appointment of a new country head for the UK. The news comes in line with the company surpassing its fifth year of trading, with 2023 turnover expected to exceed €50 million.
Daniel Hunt will be stepping into the role of country head for Agilité's UK division. As a former regional director of multi-disciplinary construction company Aecom, Daniel brings decades of industry experience working in the retail, leisure, commercial fit-out, public, and residential sectors, and has a proven track record of delivering successful budgetary control, project management, and quantity surveying services for clients across the country.
This recent appointment reflects Agilité's commitment to bolstering its already established UK presence. Daniel will play a leading role in achieving these goals, where he will be responsible for cementing team structures, and managing UK delivery targets in a way that mirrors the Paris-headquarters' operations overseas.
With other existing bases in Luxembourg, Milan, and Berlin, as well as a planned expansion into the US, the London evolution comes as Agilité chalks up its 235th project since its inception in January 2018 – delivered across 11 countries.
Agilité's burgeoning client portfolio includes brands such as Lids/NBA, END., Lululemon, Big Mamma, Savills, LVMH, Booking.com, Deutsche Börse, and The Instant Group, as well as several major multinationals in the tech and finance sectors.
Enhancing the UK base marks a natural progression in Agilité's international growth — offering a myriad of valuable opportunities to the organisation as it looks to secure new contracts, build new relationships, and continue to grow its diverse client portfolio in the English capital.
Commenting on his new role, Daniel said: "I'm delighted to be joining Agilité as the country head for the UK. I've always admired the business for its commitment to sustainability and an innate ability to deliver complex and dynamic projects — so it's really exciting to be playing such a central role in expanding the organisation in the UK.
"Joining the UK business for the next stage of its evolution will help us take advantage of the numerous opportunities on offer and begin work on new projects for world-leading brands. I look forward to meeting the rest of the team and building upon what is already an innovative, pioneering organisation."
Speaking on the announcement, Agilité's founder and MD, Neil Coales, added: "Our vision has always remained the same — an unwavering pursuit of quality to support our clients' growth plans. Part of this strategy has seen us establish a truly pan-European business that is operational in multiple locations for a range of customers — providing flexible and agile end-to-end service to meet the varying demands of our clients' business needs.
"So, as we push ahead on our next chapter of success, it's important that we focus on identifying locations and opportunities that best support our clients, and the strong supply chains we're establishing along the way.
"I am delighted with Daniel's appointment," Neil continued. "And the bolstered UK base means we'll have the means and resources to compete with other notable firms in our space."
The augmentation of the European company — which provides office, retail, and hospitality construction and fit-out work across the continent — follows 30% year-on-year growth and an increased company-wide headcount of 75.
Agilité Solutions is a pan-European company specialising in construction services, from the preliminary to the post-delivery phases of a project. Headquartered in Paris, with offices in Milan, London, and Luxembourg, it supports the growth and expansion of its clients across the continent, providing turnkey fit-out solutions.
The company offers a wide range of services, from initial space planning consultancy to interior design and feasibility assessment. Agilité Solutions manages the project in every phase, providing technical expertise on any specific aspect, thanks to a network of high-level professionals experienced in space planning, design, and construction services, with particular reference to the office, retail, and hospitality sectors.