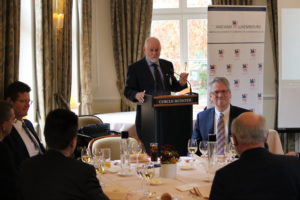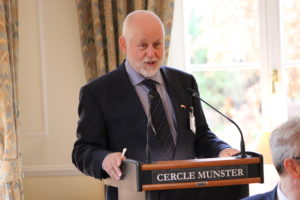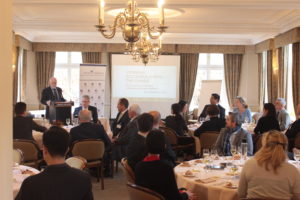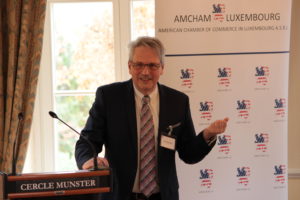 On October 1st, AmCham sponsored a lunchtime presentation entitled "Eight Keys to Working Successfully with the Chinese" in the prestigious yet cozy setting of the Club Cercle Munster. Over thirty people from a wide range of nationalities and cultures attended the 1-hour talk given by Denis Niedringhaus, executive coach and trainer specialized in multicultural team-building.
Despite his German name and ancestry, Denis is a native of Saint Louis, Missouri and has spent more than half of his life as an expat in Europe and Asia. Fluent in both Mandarin Chinese and French, he uses his fluency in Chinese to take apart Chinese characters (ideograms) and shed light on aspects of Chinese social values which often get lost in translation.
Chinese culture is an ambitious topic for a 1-hour talk and given the numerous regional and generational differences within China, the subject does not lend itself to easy generalizations. Participants who attended with the hope of getting a checklist of "What to Do", "What Not to Do" were instead given a multiple choice quiz and asked to choose the most appropriate response to a variety of situations in both business and daily life. "I'm not here to give you simplistic answers", Mr. Niedringhaus said, "the purpose of my presentation is to provide you with insight based on important cultural values and traditions."
Given the high percentage of expatriates in Luxembourg as well as the growing number of Chinese people in the community, Mr. Niedringhaus explored the Chinese cultural iceberg and gave his audience a glimpse at attitudes and beliefs beneath the surface which need to be understood when trying to build rapport with Chinese people, whether they be consumers or coworkers.
While English may be the lingua franca in business situations for the Chinese diaspora in Luxembourg, language silos commonly develop in a multicultural setting which can foster feelings of frustration and isolation and contribute to reduced efficiency, high turnover and/or burnout. Each company has its own culture and fully integrating a new manager often involves more than "language lessons".
The perception that Westerners have that the Chinese are inscrutable may be related to the fact that people from Asian cultures prefer high context communication, as opposed to high content (word based) communication. In addition to the quiz, Mr. Niedringhaus provided his participants with an analysis of a Chinese television commercial produced by the Chinese government and broadcast during the ever important Chinese New Year. The beautifully produced video was rich in non-verbal communication and highlighted core values of the Chinese culture iceberg.
While political rhetoric between the US and China may be increasingly inflammatory, individuals and corporates who invest time in understanding the traditions and values of another culture have the possibility of creating warm personal relationships or "Guanxi" which, in any culture, is the basis for mutual respect and good business partnerships.