Dear members and friends,
We are pleased to introduce to you two accomplished professionals: Victoire Auguste-Dormeuil, who will tell you all you need to know about USA Market Insights and Naomi Hasegawa,
who share her insights about the Global Commercial Banking business.
Date: Monday, October 2nd 11:30 registrations /  13:00 start of the Luncheron
at Cercle Munster, 5-7 rue Munster
Victoire Auguste-Dormeuil your Guide to U.S. Market Expansion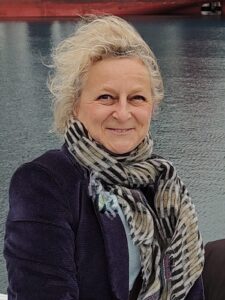 A Parisian by birth and a Southern Californian by choice, Victoire boasts two decades of transatlantic business expertise.
She graduated from the prestigious Institut d'Études Politiques de Paris and holds a Master's degree in Economics from the University of Paris 1 Panthéon-Sorbonne
Theme: From Dreams to Profits: Mastering Business in the USA
Designed specifically for Luxembourg-based companies, this insightful presentation aims to transition you from contemplation to action as you consider breaking into the U.S. market.
We've developed a comprehensive roadmap to decode the intricacies of the American business landscape for you.
Our Mission:
To provide Luxembourg enterprises with actionable insights and vital resources, enabling a confident expansion into the dynamic and multifaceted American marketplace.
Whether you are considering export, expansion, partnerships, or client acquisition, this session is tailored to address your goals.
What to Expect:
• Expert Perspectives: Learn from U.S. market entry specialist who have been pivotal in carving out American success stories for foreign-based companies.
• Real-world Know-How: Gain an intimate understanding of the American business culture through compelling anecdotes and hands-on insights. This is 'Boots on the Ground' learning.
• Strategic Connections: Seize this opportunity to expand your professional circle and forge valuable, strategic relationships that can accelerate your success in the U.S. market.
• Practical Takeaways: Walk away with actionable plans and tactical strategies to fast-track your success in the U.S. market.
Why Attend?
Transform your U.S. aspirations into reality with this focused toolkit. We'll cover the critical steps and factors essential for your American business success.
Make your attendance your action plan.
Don't Let Opportunity Pass You By
This is not just a luncheon; it's a launchpad for your American ambitions. Don't miss the chance to drastically redefine your business trajectory.
Reserve your seat today to transform your vision into a scalable U.S. enterprise.
and Naomi Y. Hasegawa Head of International Subsidiary Banking, EMEA Global Commercial Banking at Bank of America

Naomi will discuss some of the differences she has seen working in both the US and in Europe.
Naomi is based in Paris and she leads the EMEA business for Global Commercial Banking.
Prior to relocating to Europe in May 2019, Naomi was a Senior Relationship Manager in NYC where she built relationships with Middle Market sized clients ($50MM – $2Bn in revenues),
including both private and public companies.  She focused on providing the bank's full range of solutions including investment banking and capital markets as well as credit, treasury and risk management.
Naomi spent over a decade in Wholesale Credit before becoming a GCB Relationship Manager.  During her time in credit, Naomi negotiated, executed financing of various sizes and complexities.
Naomi is passionate about women in the workforce and focused on deepening Bank of America's partnerships with local non-profits includingparler francais.
Women Entrepreneurs 4 Good, an incubator program for female founders and Force Femmes, an organization advising women over the age of 45 reenter the workforce. After 23 years in New York City, Naomi now resides in Paris, France, traveling Europe, exploring the world's best restaurants and learning 
GDPR
Please be aware pictures will be taken throughout the event. By attending this event, you understand and agree that these images
will be reproduced for Amcham and website and social media purposes. You can withdraw the consent you have given at any time.
However, you understand that the Amcham may have limits into what is shared and reproduced such as that the Amcham cannot undo what is already done.