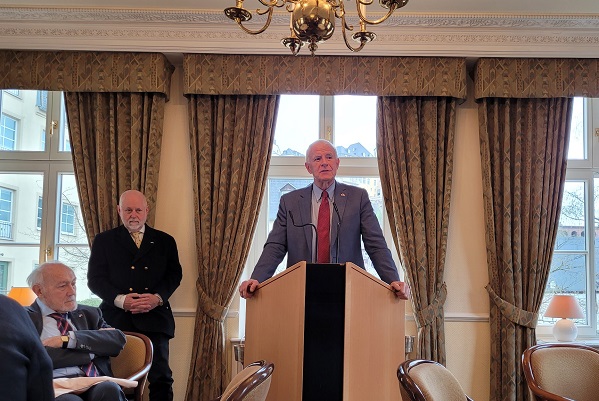 Published on Chronicle.lu  Wednesday, 06 Apr 2022 16:20 by JCA
On Wednesday 6 April 2022, the American Chamber of Commerce in Luxembourg (AMCHAM) held an in-person ABAL luncheon with special guest Thomas "Tom" Barrett, the new United States (US) Ambassador to Luxembourg, at Cercle Munster in Luxembourg-Grund.
Around 50 AMCHAM members and guests of various nationalities and ages attended this event, including the Spanish, Romanian and Czech Ambassadors to Luxembourg, the Trade and Investment Adviser at the British Embassy in Luxembourg and the CEO and the Director of Charity and Promotion of Schengen-based family business PM-International AG, among others.
In his welcoming address, Paul Schonenberg, CEO and Chairman of AMCHAM, emphasised that everyone present at this event was "worth knowing". He went on to explain that this event was mainly about introducing the new US Ambassador to members of Luxembourg's business community and vice versa.
Ambassador Barrett, who presented his diplomatic credentials to His Royal Highness the Grand Duke of Luxembourg on 10 February 2022, first spoke of his experience as the longest-serving mayor of one of the 50 largest cities in the US, Milwaukee (2004-2021). He noted: "I have been a student of government my entire career but never a diplomat", adding that there were some similarities between the role of a mayor and that of an ambassador….
Read the original article in its entirety at Chronicle.lu here