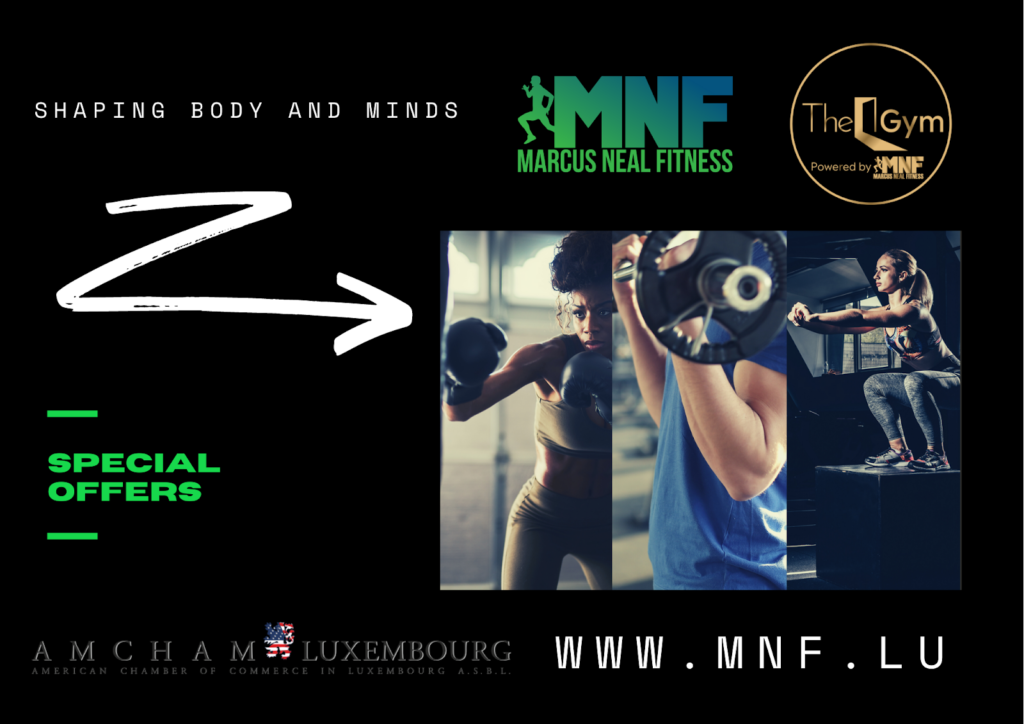 https://marcusnealfitness.com/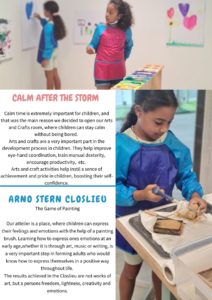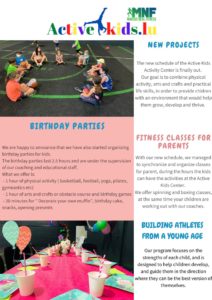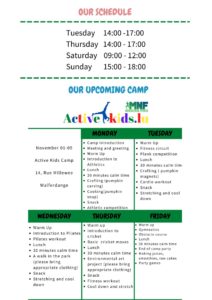 General
No joining or activation fee,
The trial session is FREE for members of AMCHAM.
Group sessions
– Group sessions package: 175 euros / month for unlimited access to our general group sessions (1 session per day) – instead of 200 for a monthly subscription of 12 sessions.
– Group sessions package including our exclusive / limited courses such as GoBoxFitness or Spinergy: 260 euros / month unlimited access to all our group sessions (1 session per day). instead of 300 for a monthly subscription of 12 sessions. (Exclusively for the gym in the CITY)
*These prices apply for a one-year contract with a monthly payment (standing order).
** AMCHAM members must download the Mindbody application, on which they can subscribe to a contract (one year) reserved for AMCHAM members. Before their first session, employees will just have to prove to us that they are affiliated with AMCHAM by submitting / sending proof in the form of a membership card. With this contract, they agree to a monthly payment plan.
ABOUT MNF: 
Tailor Made fitness sessions
Certified, dedicated and educated coaches
For beginners and pros of all ages
Drop-in classes, monthly or yearly subscription
Personal and welcoming
Classes and training sessions are fun, fast-paced and dynamic.
Coaches who care about YOU
WE OFFER:
Different types of functional and HIIT training:
Morning Mayhem
Classic Smoke
Lunch Crunch
Fundamental Smoke
Absolute Smoke
Grab a new type of smoke break, and get rocked by our coaches with one hour of high intensity movements with weights, bands and medicine balls to get every aspect of your fitness elevated!  Full body workouts to improve your fundamental movements, strength, core and cardio! These workouts are perfect for anyone, at any level of fitness experience!
SpinErgy
This is a high-energy class that blends cycling technique, hit music, club-style lighting and expert coaching to energize and inspire. This class is a perfect mix of speed and climbing intervals that match the beat of the music and time-based drills that get you sweaty.
GoBoxFitness
Come join us in learning and improving your boxing mechanics! These workouts will be a combination of boxing training and full body athletic training to gear your body on every level!
Power hour Yoga
This powerful yoga class will strengthen your body and open you up for fluid movement. You will work through poses to light up your core and legs and work through fun transitions. Prepare to leave feeling strong and empowered!
Young@heart training
It's never been more important to stay fit and healthy, especially as you get older. Young at heart sessions are taught by a trained coach that involve a dynamic warm-up, strength building exercises, stretches, 4 balance activities, and a cool-down. Stay fit and have fun!
Locations
Marcus Neal
5, rue des Romains, L-7264 Helmsange
352 661 109 188