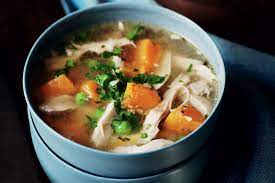 INGREDIENTS
1 tablespoon extra virgin olive oil
1 leek, sliced
2 carrots, diced
2 celery stalks, diced
1 stalk lemongrass, trimmed, bruised and halved
5 stalks fresh flat-leaf parsley, plus extra leaves to serve
4cm piece fresh ginger, peeled
2 small red chillies, trimmed, split
2 garlic cloves, crushed
1/4 teaspoon ground turmeric
2 litres Massel chicken style liquid stock
2 chicken breastfillets, thinly sliced
150g dried linguine pasta, halved
2 tablespoons chopped fresh flat-leaf parsley
Finely chopped red chilli, to serve
Lemon zest, to serve
METHOD
Heat oil in a large saucepan over medium heat. Add leek, carrot and celery. Cook, stirring for 5 minutes or until leek starts to soften. Add lemongrass, parsley stalks, ginger, chilli, garlic and turmeric. Cook for 2 to 3 minutes or until fragrant.
Increase heat to high. Add stock. Bring to the boil. Reduce heat to low. Simmer, covered, for 30 minutes or until vegetables are tender. Remove and discard lemongrass, parsley stalks and ginger.
Add chicken. Simmer, covered for 10 minutes. Add pasta. Season well with salt and pepper. Simmer, uncovered, for 8 to 10 minutes or until pasta is just tender and chicken is cooked through. Stir in chopped parsley.
Divide soup among serving bowls. Top with chilli, lemon zest and parsley leaves. Serve.
*********