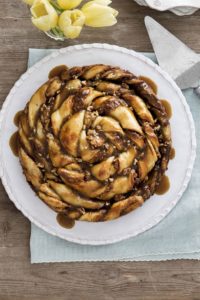 credit: CHRISTOPHER SHANE  –  pinterest
Prep: 30 Mins | Total: 1Hr 45 Mins
Serves: 8
Difficulty: Easy
Ingredients:
6 Tablespoons Unsalted Butter, softened, divided
½ Cup (125ml) Packed brown sugar, + 2 tablespoons
3 Ounces (85g) Cream Cheese, softened
1½ Teaspoons Cinnamon
¼ teaspoon Salt
½ Cup (125ml) Finely chopped walnuts
1 Pound Pizza dough, room temperature
Caramel Glaze:
¼ Cup (62ml) Brown Sugar
¼ Cup (62ml) Unsalted Butter
2 Tablespoons Cream
1 teaspoon Pure Vanilla Extract
¼ teaspoon Fine salt
Directions:
Use 2 tablespoons of butter to grease the bottoms and sides of a 9-inch (23cm) cast iron skillet, cake pan or pie plate. Sprinkle 2 tablespoons of brown sugar over the bottom of the pan.
In a medium-sized bowl, combine the cream cheese and the remaining 4 tablespoons of butter and cream them together until they're smooth. Stir in the remaining brown sugar, cinnamon, and salt until they're well blended. Fold in the walnuts and set aside.
On a lightly floured work surface, roll out the pizza dough until it is a 14-inch (35cm) square. If the dough springs back while being stretched and is hard to work with, allow it to rest for a few minutes covered with a towel.
Spread the nut mixture over half of the dough, fold the other half of the dough over the nut mixture, and lightly press the edges together.
Cut the dough into 5 strips lengthwise, and tightly twist each strip. Starting in the center of the prepared baking dish, coil the strips in a spiral, pressing each end into the next. Cover with a towel and place in a warm place for 45 minutes.
Preheat the oven to 350℉ / 170℃. Bake the roll for 30-35 minutes or until it's golden brown and cooked all the way through. While it's baking, prepare the caramel glaze.
In a small saucepan over medium heat, bring the brown sugar, butter, and cream to a boil. Stir constantly until the brown sugar has dissolved. Remove it from heat and add the vanilla and salt.
Once the roll has come out of the oven, transfer it to a serving plate and drizzle it with the warm glaze.
Chef Tips:
To keep your knife from sticking to the dough when you're cutting it into strips, put some flour on a plate or tray and "cut" the flour to lightly coat the blade with flour.