Saturday in the City
This past weekend, I spent Saturday morning in the city. The weather was good and I had not been in the city very much recently on a weekend, so I was curious to see how well populated the city was, how active the shopping was, if people were wearing masks, if the tourists had returned (at least from the neighboring countries), and to see if there were any people I know out and about. (and in this regards, I was especially pleased to see Marc Angel, the Socialist MEP, out and about cycling with his partner!)
After parking my car in the underground below the children's pirate ship playground, I started out at the relocated weekend market at Royal-Hamilius. It was very busy and appeared to be mostly a local resident crowd shopping for fresh produce and the specialty products on offer. At one point, I counted 28 people patiently standing in line waiting for their turn to buy rotisserie roasted chicken from a mobile stand. I likewise noted that everyone in the line was wearing a face covering mask as compared to the 70% of people not wearing masks as they just walked through the rest of town from one shop or location to another. It did appear that the majority of people had masks with them and put them on when they entered shops, or were in close proximity with each other. But just walking around, it looked like people did that without masks and were enjoying the fresh air.
In the immediate Royal-Hamilius area, I noticed that there were three POP UP stores: a Caritas store focused on repurposing, reusing clothing and promoting sustainable/circular clothing: a sports stores with no apparent eco or green agenda: and a third Pop UP devoted to artisanal products.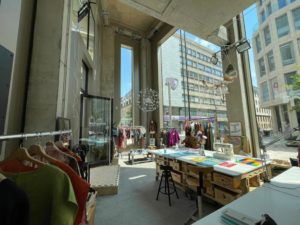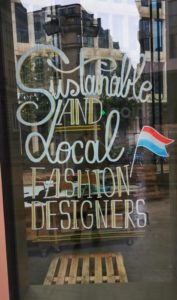 I was particularly curious about the Caritas store "Lët'z Refashion" which was right next to the Royal-Hamilius Delhaize for two reasons. First, I was brought up in a well-off but frugal Dutch German family (living in New York!), so as a kid I was well acquainted with hand me down clothes. I especially remember that in our extended family Christmas photos there was a red wool sports jacket that started out one year with one cousin, then the next year was worn by my brother, and then after another cousin two years later it was my turn to wear the red Christmas sports jacket in the family holiday photos. So, I grew up with clothes recycling as part of my family upbringing and hence was interested to see what Caritas offered for a message and what they offered to sell. To be honest, they had some very nice quality interestingly repurposed clothing, all created by local clothing designers. I was likewise pleased to see that Caritas is offering Ateliers to help people learn how to sew, repair and to repurpose clothing. Please stop by and have a look. When you do, please make sure you pass on my respect and best wishes to Sophie Garnier Bsarani, the Caritas "Rethink Your Clothes" Chargée de Campagne!  She and her colleague were both very charming and we had good conversations together. The store is likewise festooned with environmental quotes advocating less consumption, fair wages, and decrying the harmful environmental consequences of excessive consumerism in the global clothing chain. I am very pleased that this Caritas store has agreed to become an AMCHAM partner offering our Member Benefit Card (MBC) holders a discount on the fees for their Atelier sewing and clothing design classes!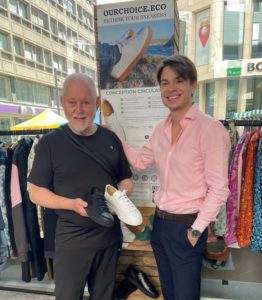 My other reason to visit the Caritas store was to see and talk with Filip Westerlund, the Founder, Owner and Visionary leader of OURCHOICE.ECO. This small Luxembourg startup with manufacturing located in Portugal has taken the everyday sneakers which are such a part of our footwear attire and transformed them into an Eco-Bio-Circular-Economy-Sneaker of exceptional quality, built around a circular economy business model. The result is an extremely high-quality sneaker which looks to be close to indestructible (and which you can re-sole and refurbish at the factory upon demand!). I bought a black pair and a white pair and am very pleased with these sneakers which are no-label chic, very comfortable, have a timeless elegance and will likely last me forever!  Since I am so impressed with the product and the business model behind it, I invited Filip to join our AMCHAM Member Benefits (MBC) Club program as a partner and to offer a discount to MBC card holders. I am very pleased Filip has accepted my offer and I look forward to my AMCHAM team working out the administrative details during the coming week so AMCHAM members can buy these great sneakers with AMCHAM MBC discounts.
So, welcome Caritas and OURCHOICE.ECO as the newest partners of the AMCHAM Benefits Club (MBC) program!
I understand our Minister of Economy, Franz Fayot, has likewise bought two pairs of these cool, well-made, stylish and chic sneakers too. So, join Minister Fayot and me and let's make a movement of the friends of Eco-Bio-Circular-Economy-Sneakers!!!
Lët'z Refashion:


   https://rethink.lu/let-z-refashion.html 
Ourchoice.eco: 


  https://www.ourchoicefashion.com/