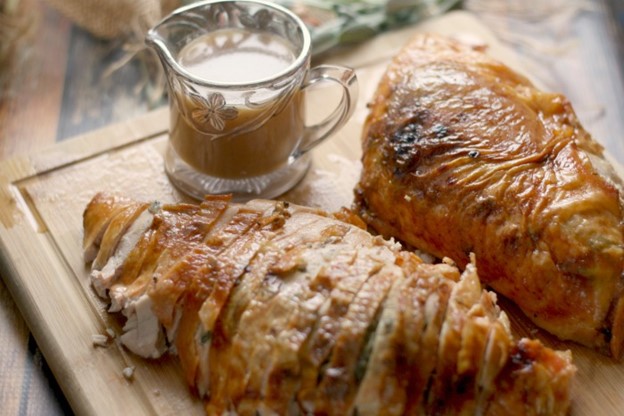 PREP TIME: 10 MINS   COOK TIME: 2 HOURS   TOTAL TIME: 2 HOURS AND 10 MINS
This flavorful and moist sage and shallot roasted turkey breast with apple cider gravy is special enough to make as a small holiday entree but easy enough to make any day!
INGREDIENTS:
• 1 (6 to 7 pound or 3kg) full bone-in turkey breast
• 3 tablespoons unsalted butter, softened
• 2 tablespoons chopped fresh sage
• 1 small shallot, finely chopped
• 1 3/4 teaspoon coarse sea salt
• 1/2 teaspoon ground black pepper
• 1 tablespoon all-purpose flour
• 1/2 cup (125ml) turkey/chicken broth
• 1/2 cup (125ml) apple cider or hard apple cider
INSTRUCTIONS:
1. Preheat the oven to 400° F (200° C). Set the turkey breast on a rack in a roasting pan.
2. Combine butter, sage, shallot, salt, and pepper in a small bowl and mix until everything is evenly incorporated. Loosen the skin over turkey and rub half of the butter mixture under the skin and then slather the other half of the butter on top of the skin.
3. Set on the middle oven shelf and roast until an instant-read thermometer registers 165°F (75° C) when inserted into the thickest part of the breast, 1 hour 45 minutes to 2 hours. Transfer to a cutting board and tent with foil while you prepare the gravy.
4. Pour the drippings from the roasting pan into a fat separator. Reserve any juices and add 1 tablespoon of the fat to a small pan set over medium heat. Stir the flour into the fat and cook for 1 minute while stirring. Slowly stir in the broth, cider, and any reserved pan juices. Cook, stirring often until gravy has thickened up a bit, 3-4 minutes. Taste and adjust seasoning as necessary with salt and pepper.
5. Remove turkey breast from bone and slice. Serve with gravy on the side.