Heavenly Strawberry Tart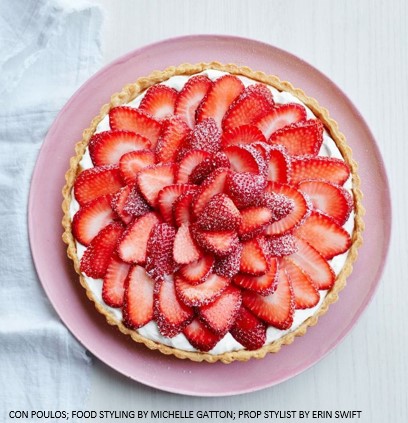 This tart is as tasty as it is beautiful.
PREP TIME:0 hours 45 mins
TOTAL TIME:1 hour 50 mins
INGREDIENTS
170g (1-1/4 cup). all-purpose flour
1/2 tsp. kosher salt
3 tbsp. granulated sugar
115g (1/2 c.) cold unsalted butter, cut into small pieces
2 tbsp. ice water
720ml (3 c.) pie weights, dry beans, or rice
225g (8 ounce) package cream cheese
115g (1/2 c.) sour cream
240ml (1 c.) very cold heavy cream
120ml (1/2 c.) store-bought dulce de leche (also known as caramelized milk or milk jam in English)
680g (1 1/2 lb.) Strawberries, sliced
Confectioner's sugar, for serving
DIRECTIONS
In a food processor, pulse the flour, salt, and 1 tablespoon sugar to combine. Add the butter and pulse to form fine crumbs. Add the water and pulse until the dough comes together. Refrigerate until chilled, about 20 minutes.
Heat oven to 200°C (375° F). Lightly coat a 23cm (9-inch) removable bottom tart pan with cooking spray.
On a lightly floured surface, roll the dough into an 28cm (11-inch) round. Fit into the bottom and up the sides of the tart pan, then cut off and discard any excess. Chill for 15 minutes. Place the tart pan on a baking sheet. Gently line the inside of the crust with non-stick foil and fill with pie weights, dry beans or rice. Bake for 20 minutes. Discard the beans or rice and foil and return to the oven until lightly golden brown, 10 to 15 minutes more. Let cool completely.
While the crust is cooling, using an electric mixer, beat the cream cheese and remaining 2 tablespoons of sugar until smooth, 1 to 2 minutes. Add the sour cream and beat to combine. With the mixer on low, gradually add the heavy cream, mixing until fully incorporated. Increase the speed and beat until the mixture has thickened and doubled in volume, about 2 minutes.
Spread the dulce de leche evenly over the bottom of the crust. Spoon the cream cheese mixture on top, gently spreading to smooth. Top with strawberries. Serve immediately or cover and refrigerate overnight. Dust with confectioner's sugar just before serving, if desired.