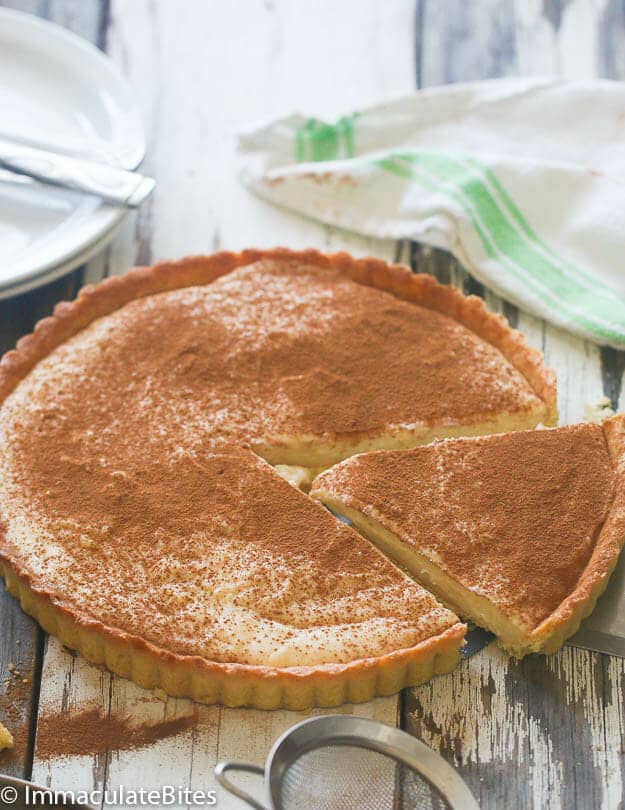 A traditional South African dessert, a legendary Melktert (Milk Tart) Recipe, the one "Ouma" used to make.
Ingredients
Sucre Patee (Pastry Crust)
1 1/2 cups (188 grams) all-purpose flour
1/3 cup (35grams ) confectioner's sugar powdered sugar
¼ teaspoon salt
9 Tablespoons (125grams) unsalted butter(cold or frozen) , cut into small pieces
1 large egg yolk
Milk filling
2 1/4 ( 496 ml) cups milk
2 tablespoon (28grams) butter
2 tablespoons (20 grams) flour
3-4 tablespoons (23- 30grams) cornstarch
1/2 cup (100grams) sugar
2 Large eggs
2 teaspoons vanilla extract
½ teaspoon almond extract (optional)
½ teaspoon cinnamon
½ teaspoon nutmeg or replace with cinnamon
US Customary – Metric
Instructions
Pastry Crust
Butter a 9-inch pie pan with a removable bottom
Place flour, salt and sugar in a food processor pulse for a couple of times to mix ingredients.
Throw in butter and pulse until rough dough forms.
Then add egg yolk – pulse until the dough barely comes.
Remove dough place on a work surface – knead just enough to incorporate all the dough. Working the dough as little as possible.
Do not overwork the dough; otherwise, it'll be too tough. When it's ready, the dough will be barely moistened and come together into a ball.
Lightly press the dough on the prepare pie pan – working from the center up until the bottom and sides are fully covered with pastry – again be very gentle when pressing the dough onto the pie pan.
Place pie pan in the freezer and freeze for at least 30 minutes or more this helps prevent the dough from rising- if you are in a rush brick, then bake with beans to prevent rising.
Preheat oven to 400° F (200° C) and place rack in center of oven
Bake crust for about 20 to 25 minutes or until the crust is dry and golden browned. Set aside
Milk Filling
Place saucepan over medium heat, add butter, nutmeg and milk -bring to a boil and remove from the heat.
In another bowl, mix together flour, cornstarch, sugar, vanilla and almond extract- whisk in eggs until smooth. Gently whisk into the saucepan making sure there are no lumps
Now return the pan back on the stove – keep stirring constantly until in starts to bubble.
Cook for about 5-6 minutes. Remove from heat and pour mixture into the baked pastry shell Sprinkle with cinnamon. Chill until ready to be served.
Tips & Notes:
You can make the crust ahead of time, bake and leave out until ready to be use.
Use store bought pastry pie if you are press for time
Switch up the flavors,  nutmeg and cinnamon make a great flavor combination
A lot of recipes call for throwing in cinnamon stick so it infuses the milk mixture – if you have some handy by all means use it, if not just use cinnamon spice.