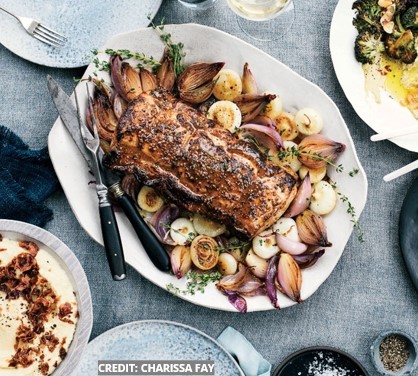 Active: 45 mins                    Total: 10 hrs 10 mins                        Yield: 8
Ingredients
120ml (1/2 cup) Dijon mustard
60ml (1/4 cup) whole-grain mustard
60ml (1/4 cup) dry sherry
6 tablespoons unsalted butter (3 ounces), softened, divided
1 teaspoon fresh thyme leaves
1 teaspoon cayenne pepper
5 1/2 teaspoons kosher salt, divided
1   1.8kg (4-pound) boneless pork loin roast
60ml (1/4 cup) canola oil, divided
2 medium-size red onions, cut into 8 wedges each
1.8kg (1 pound) cipollini onions (small sweet onions), peeled
6 large shallots (about 9 ounces), peeled and halved lengthwise
3/4 teaspoon black pepper, divided
1/4 cup dry white wine
2 tablespoons dark brown sugar
4 thyme sprigs, plus more for serving
120ml (1/2 cup) water
Instructions
Step 1
Whisk together Dijon, whole-grain mustard, sherry, 2 tablespoons butter, thyme leaves, cayenne, and 1 teaspoon salt in a large bowl until combined. Add pork loin to bowl, turning to coat—cover and chill for at least 4 hours or up to overnight.
Step 2
Preheat oven to 180°C (350°F). Remove pork loin from marinade, reserving 3 tablespoons marinade. Discard remaining marinade—season pork on all sides with 2 teaspoons salt.
Step 3
Heat 2 tablespoons oil in a large skillet over high. Add pork, and cook until browned on all sides, about 4 minutes per side. Remove from skillet and set aside. Toss together red onions, cipollini onions, shallots, 2 teaspoons salt, 1/2 teaspoon black pepper, and the remaining 2 tablespoons oil. Add half of the onion mixture to skillet, and cook, without stirring, until browned on one side, about 2 minutes. Remove onion mixture from skillet, and place in the bottom of a heavy-duty metal roasting pan. Repeat with the remaining half of the onion mixture.
Step 4
Place a roasting rack over onions in a roasting pan, and place browned pork on the rack. Bake in the middle of preheated oven until a meat thermometer inserted into the center of pork registers 75°C (130°F), about 1 hour. Remove pork from the pan, and transfer to a cutting board. Let rest 20 minutes before slicing, and using a slotted spoon, transfer onions to a plate.