Malva Pudding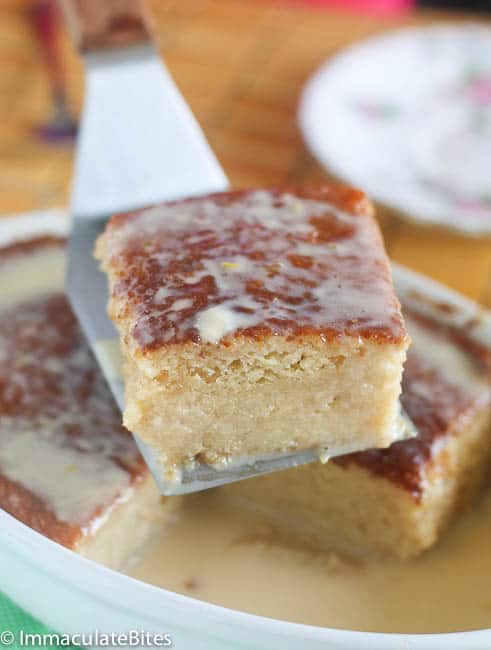 Malva Pudding – a sweet decadent South African dessert with a light glazed exterior and spongy interior soaked in tasty warm butter.
Prep:  10 mins    Cook:  35 mins    Total: 45 mins
Author: Imma   Course: Dessert      Cuisine: African
SERVINGS:  5 -6 slices
Ingredients:
3/4 cup sugar
2 large eggs
1 tablespoon un-salted butter room temperature
4 tablespoon Apricot jam
1 1/2 teaspoon grated orange zest
1 cup or 5 ounces all-purpose flour
1 teaspoon baking soda
1/2 teaspoon salt
1 teaspoon vinegar
¾ cup milk
For the Sauce
1 cup evaporated milk
1/4 cup granulated sugar
1/4 cup brown sugar
8 tablespoons / 4 ounce. / 113 grams butter.
½ teaspoon almond extract
1 1/2 teaspoons vanilla extract
Instructions
In a large bowl beat eggs, orange zest, sugar, butter and apricot jam, until light and fluffy. Then add the vinegar and milk to the eggs mixture
In another bowl, sift together the flour, baking soda, and salt
Gradually, fold the flour mixture into the egg mixture. The mixture might be runny that's ok.
Pour batter into a greased cake pan. Bake at 350 until a tester inserted into the center comes out clean, 25–30minutes
While the cake is baking
Heat the evaporated milk, butter, sugar, almond and vanilla extract, in a saucepan over medium heat until the sugar has dissolved and the butter has melted. Remove from heat
Using a skewer poke holes in the cake extending all the way to the bottom of the cake.
Pour the butter sauce on the cake. Serve immediately or set aside in the fridge. Until ready to use