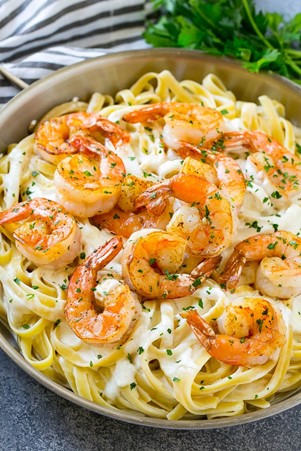 This shrimp alfredo pasta is made with fettuccine in a creamy parmesan sauce, topped with sauteed garlic shrimp.
Prep Time:  10 minutes      Cook Time:  20 minutes    Total Time:  30 minutes
INGREDIENTS
10 ounces fettuccine pasta
5 tablespoons butter divided use
1 cup heavy cream
3/4 cup freshly grated parmesan cheese
salt and pepper to taste
1 pound shrimp peeled and deveined, tails removed if desired
1 teaspoon minced garlic
2 tablespoons chopped parsley
INSTRUCTIONS
Cook the pasta in salted water according to package directions.
Melt 4 tablespoons of butter in a saucepan over medium-low heat.
Add the cream and simmer for 4-5 minutes or until just thickened – do not boil.
Whisk in the parmesan cheese, stirring continuously, until cheese has melted.
Season the sauce with salt and pepper to taste.
Heat 1 tablespoon of butter in a large pan over medium-high heat.
Add the shrimp to the pan and season with salt and pepper.
Cook the shrimp for 3-4 minutes, stirring occasionally, until shrimp are pink and opaque.
Add the garlic to the pan and cook for an additional 30 seconds.
Drain the pasta and toss with the alfredo sauce. Arrange the shrimp on top and sprinkle with parsley, then serve.