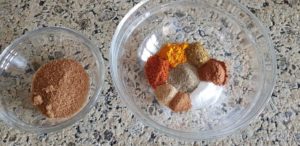 Middle-Eastern Sweet & Spicy Rub
Recipe Source:  Better Homes and Gardens "The New Grilling Book"
I tried this mid-eastern sweet & spicy rub this past weekend from a cookbook I own, and the family really enjoyed it; we will definitely do it again (with a little more cayenne pepper)!
Ingredients:
2 tbs butter (30g)
1 tsp cinnamon
½ tsp salt
½ tsp Ground cumin
½ tsp Ground turmeric
½ Ground red pepper (Cayenne pepper)
½ tsp Black pepper
¼ tsp Cardamom
¼ tsp Cloves
¼ tsp Nutmeg
1 tbs (12.5g) Sugar ( I used a bit more brown sugar in the image above)
Instructions:
Melt butter, and stir in all spices except the sugar.
Remove from heat and add the sugar.
Let cool before applying it (rub it in with your hands)