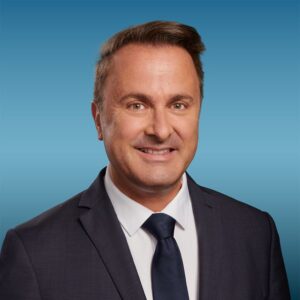 Xavier Bettel is a Luxembourgish lawyer and politician serving as Prime Minister of Luxembourg since 2013. He was previously a member of the Chamber of Deputies and Mayor of Luxembourg City.
AMCHAM: Please introduce yourself to our audience by telling the key points you would like our audience to know about your life history, your acquired skill set and competencies, and the values which prioritize and guide your decision-making.
PM XAVIER BETTEL: I was born and raised in Luxembourg. After having completed a degree in public and European law in France, I worked as a lawyer. At the age of 26, I was elected to the Luxembourg Parliament. In 2011, I was elected mayor of the City of Luxembourg and two years later I became Prime Minister. I am happily married to Gauthier, my partner of many years, on whom I can rely on for support and advice.
My legal background has been most useful in politics, enabling me to understand procedures and ensure that the policies adopted are coherent, proportionate and viable. Frankly, however, it's my experience as an MP, mayor and now Prime Minister that is most valuable to me today.
My decision-making is guided by the values of tolerance and citizen participation. To build support and make the right decisions, it is important to come together and make decisions as a community. This approach is very much part of what we call the "Luxembourg model", the Luxembourg way of doing things. Our institutionalised dialogue, which brings together the social partners and the government to find solutions in times of crisis, has enabled us to maintain social peace and stability. This distinguishes us from our neighbours. During the COVID-19 crisis, the war and the energy crisis, this proximity and mutual understanding allowed us to face these turbulent times while remaining calm and united.
That's also why I created the Citizens' Climate Assembly, so that the opinions of a representative section of the population can be taken into account in the decision-making process. Tackling the climate crisis is not easy, and it can only be done by involving, convincing and supporting people. Not through top-down decisions. I believe in the importance of dialogue and cooperation, not only at the local level, but also at the regional and global levels. Tackling climate change and biodiversity loss will be our biggest common challenges in the future.
Please write a SWOT analysis of the current political and economic situation impacting Luxembourg.
Luxembourg's strengths are first and foremost our political stability and our dynamic financial services sector, which provide a high quality of life for its residents. Our small domestic market limits the diversification of the economy, but this risk is mitigated by being part of the European single market. The most pressing issue specifically for residents today is the housing crisis, which is putting a strain on people's purchasing power. Overall, the climate crisis and the loss of biodiversity and their consequences, such as famine, refugee crises and natural disasters, are the greatest threats to our way of life and prosperity. Diversification into technology and sustainable finance, as well as strategic investments, offer opportunities for future growth. That is why, despite the crises of recent years, Luxembourg has kept its commitments and continued to invest in key sectors. This year, the country is investing €530 million in environmental and climate policy, and €300 million each in housing and public infrastructure. In the following years, these investments will consistently exceed this amount. The country also needs to address potential threats related to global economic uncertainties, energy crisis, supply chains and so on.
What are the three most priority actions you will immediately initiate if you become Prime Minister and why you have chosen these three?
First of all, we need to increase investment in housing in order to increase the supply in Luxembourg and ensure affordable housing. For this, the government needs to invest money, and I also want to set up a citizens' fund so that everyone can participate in building more housing and be rewarded for their investment.
A second priority is to provide financial relief to the middle class. To sustainably strengthen people's purchasing power, the DP will regularly adjust the tax scale in line with inflation. And we will implement a tax reform so that people are no longer taxed differently simply because they are married or not. We must continue to work for a modern tax system that reflects today's reality. Much has already been done, especially with the 2017 tax reform, when individualisation became optional and we eased the tax burden on small and medium incomes.
My third priority is to rigorously implement the photovoltaic initiative I have announced, and to use suitable areas for solar energy through massive investment. At the same time, we must drastically reduce the approval time for energy and renovation projects by introducing tacit approval by the administration after a set period of time.
As Prime Minister, and during your first 6 months in office, please identify the three to 5 most priority changes you will initiate to improve the circumstances and enhance the quality of life of the inhabitants of Luxembourg.
In order to enhance the quality of life of Luxembourg residents we must proactively tackle the issues of the future and launch investment offensives in housing construction, mobility, the energy transition (including the photovoltaic initiative) and the health sector.
Then we must reduce the tax burden on businesses and individuals and cut red tape to stimulate economic growth.
Furthermore, we are increasingly seeing that not everyone can work 9 to 5, nor does everyone want to. Therefore, we need to make labour law more flexible so that workers, in accordance with their employer, can organise their time in a way that suits them best.
As I have said before, solidarity is paramount in times of crisis. And as Prime Minister, I will not accept that people have their electricity cut off in the middle of winter because they can no longer afford to turn on their heating. That is why I will extend energy measures such as the energy price cap beyond 2024 if the international situation so requires.
As Prime Minister, and during your first 6 months in office, please identify the three to 5 most priority changes you will initiate to strengthen the economy of Luxembourg and increase the attractiveness of Luxembourg as an international business location in Europe.
Unfortunately, I have to admit that some parties want to create a divide between workers and employers, between business and society. They forget that a stable economy is the foundation of our way of life, our prosperity and especially our welfare state.
The Democratic Party will take several steps to strengthen our economy in times of increasing foreign competition.
First of all, we must safeguard our AAA credit rating. One of our main selling points for investors and companies wishing to set up in Luxembourg is our stability. I will therefore defend a responsible and sustainable financial policy.
A second selling point is the highly qualified and experienced workforce in Luxembourg, be it lawyers, bankers, etc. To ensure that we are a leading competitor, we need to take fiscal measures to attract graduates and encourage young talent to settle in Luxembourg.
Our future lies in diversifying our economy and making it more resilient. To encourage corporate investment in sustainability and research, I will introduce additional tax credits and super-deductions. Similarly, recognising that the challenges of our time cannot be tackled without public-private partnerships, alternative forms of financing such as blended finance and impact investing must be promoted.
If it's true that sustainable practices, research and start-ups need fiscal incentives, we have to consider that the overall tax burden in Luxembourg is above the EU and OECD averages. To remain competitive, we need to reduce corporate tax and communal business tax towards these average rates.
Last but not least, we must support small and medium-sized enterprises (SMEs) in a targeted manner by consistently reducing bureaucratic hurdles. For example, an SME check or an SME clause will ensure that the regulatory framework takes into account the concerns and specificities of SMEs and does not impose disproportionate burdens on them.
Picture: https://flic.kr/p/2oUtZ2D
Instagram: https://www.instagram.com/xavier.bettel/#
Linkedin: https://lu.linkedin.com/in/xavier-bettel/fr
Facebook: https://www.facebook.com/XavierBettelPM/
Twitter: https://twitter.com/Xavier_Bettel
The views and opinions expressed are those of the authors and do not necessarily reflect an official policy or position of AMCHAM.lu. Any content provided by our interviewees are of their opinion, and are presented in their own words.