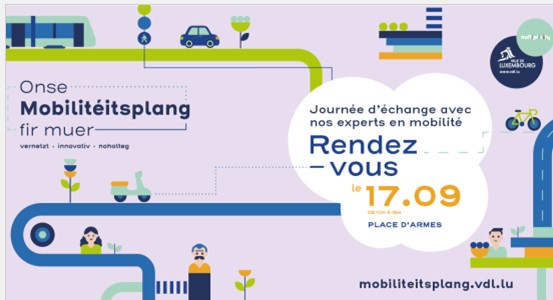 The City of Luxembourg invites residents to an outreach and information-sharing event about the project "Our Mobility Plan for Tomorrow: connected – innovative – sustainable", taking place between 10:00 and 18:00 on Saturday, 17 September at Place d'Armes.
Continuing in the same vein as the first participatory meetings, which were held on 13 October 2021 and 3 March 2022, this event will offer one and all the chance to chat informally with the municipal authorities in charge of mobility, to put forward their ideas on urban transport, to learn more about the process by which the mobility plan has been developed, the progress to date, and the next steps in the project. They can also ask questions about mobility in general in the city, and the challenges linked to urban mobility in tomorrow's world, in a city that is growing, thriving and looking to the future.
Catering stands will be on-site.
How to get there:
By bus: "Badanstalt", "Hamilius" or "F. D. Roosevelt" stops
By tram: "Hamilius" stop
By vel'OH!: "Hamilius", "Knuedler", "Gëlle Fra" or "Theater Plaz" stations
By car: Knuedler, Théâtre or Royal Hamilius car parks