Read the latest news from our Members, if you have any news you would like us to publish please send to jane@amcham.lu or kevin@amcham.lu.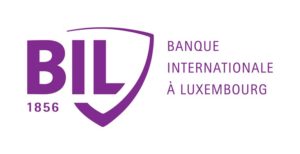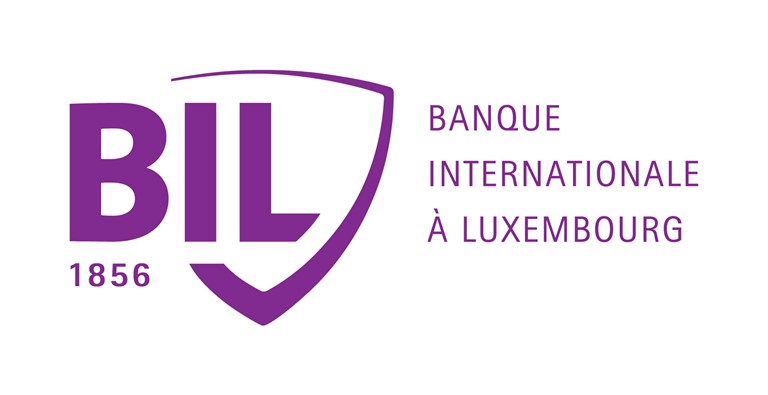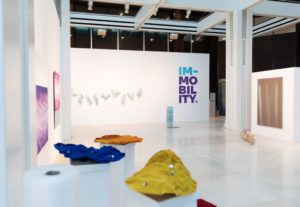 IM-MOBILITY pushes the boundaries
How our relationship with space has evolved? What are the foundations of our future means of transports? Artists and innovative businesses will try to provide answers through a multidisciplinary exhibition on the theme of mobility. Works of art, videos, prototypes, performances and conferences will be presented in Banque Internationale à Luxembourg's Galerie Indépendance and Heintz Park from 17 September 2021 to 14 January 2022.
Mobility is the freedom to move around in order to travel, work, learn, do business, see family and friends, have fun, shop and eat out. The health crisis that we are experiencing, which has restricted our movement and changed the way we interact with each other, has cast a spotlight on our ways of living and shown the extent to which mobility is a key factor. It has also highlighted the incredible way in which technology and means of communication enable citizens, communities, governments, and companies to adapt. Restrictions on movement did not bring business or socializing to a complete halt. But it forced us to do things differently.
A corporate citizen with more than 1,800 staff in Luxembourg, including nearly 700 cross-border workers, BIL is also faced with the question of mobility. The way we live and do business is changing, with remote working and new means of communicating and interacting with its clients. This is why we wanted to spark debate, launching a multifaceted discussion forum called IM-MOBILITY. Artists and experts set out their vision for mobility and present innovative transport solutions, current and future.
From 17 September 2021 to 14 January 2022, the IM-MOBILITY exhibition is filling public and private spaces at BIL headquarters on Route d'Esch, with work of art as well as videos, prototypes and innovative vehicles from companies and research institutes for which transport is a core issue. The Galerie Indépendance, Heintz Park, customer reception areas and other venues will be used throughout the exhibition. Conferences presented by our partners will also liven up the forum.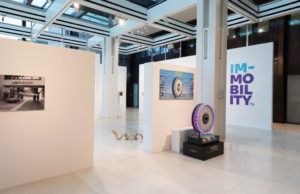 Discover the IM-MOBILITY exhibition, the latest news and the conference programme at www.bil.com/im-mobility
Artists:
11 renowned artists, from very different backgrounds, were invited to think about the ideas of mobility and immobility, and to present their creation: Roger Dornseiffer, Patrick Galbats, Marco Godinho, Hisae Ikenaga, Thibaud Latour, Spike and Stick, Frank Miltgen, Claudia Passeri, Gilles Pegel, Mike Zenari.
Works lent by the Luxembourg City Museum will also be exhibited.
Innovation partners:
Start-ups, research institutes, industrial multinationals and companies present innovative solutions: Goodyear and its self-regenerating tire, MDI and its AirPod, Moovee, Losch Luxembourg, Luxembourg Air Rescue, B Medical System, 360Lab at the University of Luxembourg (SNT).
Galerie Indépendance, Banque Internationale à Luxembourg, 69 route d'Esch, Luxembourg. Open every business day from 8am to 6pm, from 17 September 2021 to 14 January 2022. Heintz Park, always open.
About Banque Internationale à Luxembourg (BIL)
Founded in 1856, Banque Internationale à Luxembourg (BIL) is the oldest multi-business bank in the Grand Duchy. It has always played an active role in the main stages of the development of the Luxembourg economy. It currently operates in retail, private and corporate banking, as well as on capital markets. With more than 2,000 employees, the bank has branches in Luxembourg, Switzerland and China.
www.bil.com
For more information, please contact:
Vincent Pelletier
Banque Internationale à Luxembourg SA
69, route d'Esch • L-2953 Luxembourg
Tel.: +352 4590 5046 – Email: vincent.pelletier@bil.com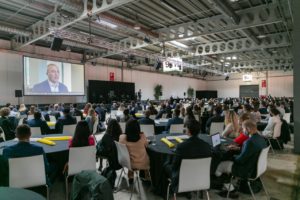 During the coming months, focused compulsory training awaits the young recruits who have recently joined EY.  (Photo: Romain Gamba/Maison Moderne)
EY welcomes 250 new recruits
EY has recruited 340 new staff from 80 different countries. The first 250 attended a traditional welcome ceremony on Thursday morning at Luxexpo.
EY chose Luxexpo on Thursday morning to welcome the first 250 of its 340 "new joiners", 80% of whom are young graduates from 80 different nationalities. The reception was meticulously staged.
Another 90 new recruits will arrive in October. "We divided the ceremony into two sessions to comply with health standards," said  Olivier Coekelbergs, country managing partner at EY. "It's a great pleasure to see people physically again. Last year we welcomed 300 new employees, but virtually. This is not the same. This year is a turning point: face-to-face, but no travel yet."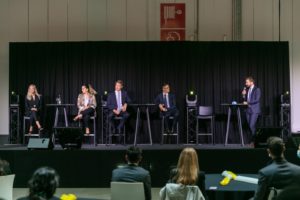 Of all the "new joines", 80% are young graduates. (Photo: Romain Gamba/Maison Moderne)
EY HR director Annette Boehm and her team led the event. Romain Gamba / Maison Moderne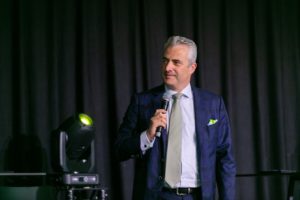 Olivier Coekelbergs, country managing partner at EY, reminded the "new joiners" of the
particularity of the Luxembourg financial centre. Romain Gamba / Maison Moderne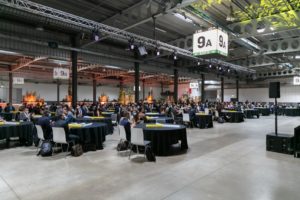 Corporate dress code and masks were compulsory at the welcoming ceremony which was held in person,
unlike the one in 2020. Romain Gamba / Maison Moderne
The traditional integration trip – a common feature of several large firms – to forge a collaborative spirit and encourage teamwork, is not yet on the agenda. Instead, "a bus tour of the city followed by dinner in a restaurant and an escape game for small groups will be offered," explained Annette Boehm, HR director at EY. "The integration budget remains very high – although 30 to 40% lower than before Covid – but it remains profitable for us because we integrate qualified people," she said.
25% turnover
During the coming months, focused compulsory training awaits the young recruits, who will be taken care of differently depending on the position they hold. Managers are promoted or recruited throughout the year.
At EY, which on 1 January 2021 had 1,460 employees (+5% compared to 2020), the average age is 31. It's no secret that the Big Four are often the foundation on which young graduates base their careers, having benefited from on-the-job training that can lead them to pursue new avenues or strive to attain the coveted title of partner.
This is not necessarily to the detriment of the firm, as a well-trained candidate is a guarantee of external recognition. Annual turnover is between 20 and 25% depending on the year. "It's high, but it's part of the business model," says Coekelbergs, who is not afraid of the firm's growth objective of doubling its turnover by 2026.
Profiles capable of adapting
"The surveys we do with newcomers show three concerns: learning, finding meaning in their mission, and working for a company that respects D&I (diversity & inclusion) and CSR (corporate social responsibility) values," Boehm explained. The millennial generation does not want to live to work, as their grandparents did.
On stage at the welcoming ceremony, one of EY's managing partners acknowledged that working in an audit firm generates a form of pressure that one must learn to manage, while encouraging newcomers to "always ask questions, never stop reading and never underestimate a feeling of isolation."
Annette Boehm shared this benevolent attitude: "For some years now, we have been paying particular attention to the soft skills of candidates. We don't want standard profiles, but people who can adapt quickly to the changing world…people who have changed careers, people who have not graduated from top schools. A team is also successful thanks to the individuality of each person.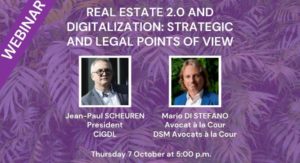 Webinar on   "Real Estate 2.0 and Digitalization: strategic and legal points of view"
The Luxembourg Real Estate Board (Chambre Immobilière du Grand-Duché de Luxembourg  (CIGDL) and the law firm of DSM Avocats à la Cour are pleased to invite you to a free French-language webinar on Thursday 7 October at 5:00 p.m. on "Real Estate 2.0 and Digitalization: strategic and legal points of view" presented by Jean-Paul SCHEUREN, President of the CIGDL, and Mario DI STEFANO, Managing Partner – Avocat à la Cour, DSM Avocats à la Cour.
The program of the conference includes a dialog between Mr. SCHEUREN and Mr. DI STEFANO on the digitalization of the real estate market and its legal implications:
Introduction
The future a career as a real estate agent given digitalization

Virtual visit
Electronic signatures
CRM tools
New competition from platforms
Hybrid agencies
Blockchain

Political and market aspects
Advantages and disadvantages of digitalization
Legal aspects of the digitalization of the distribution of real estate products

Legal impact of the development of the profession
Differences between electronic and hand-written signatures; the legal framework in case of a dispute
Reservation contracts
Real estate agent appointment
How to integrate digital tools into one's processes and comply with the law
Information to put on a website (GT&Cs; General Sales Conditions)
GDPR
AML

Q&A
The webinar will last approximately 50 minutes and there will be a Q&A session at the end.
Registration: https://www.dsm.legal/en/webinar-on-real-estate-2-0-and-digitalization-strategic-and-legal-points-of-view-hosted-by-jean-paul-scheuren-cigdl-and-mario-di-stefano-dsm-7-october-luxembourg/
Speakers:
Jean-Paul SCHEUREN, President @ CIGDL
Mario DI STEFANO, Managing Partner – Avocat à la Cour @ DSM Avocats à la Cour
For whom?
Real estate agents, developers, property managers and other real estate actors, members of the CIGDL and other interested persons.