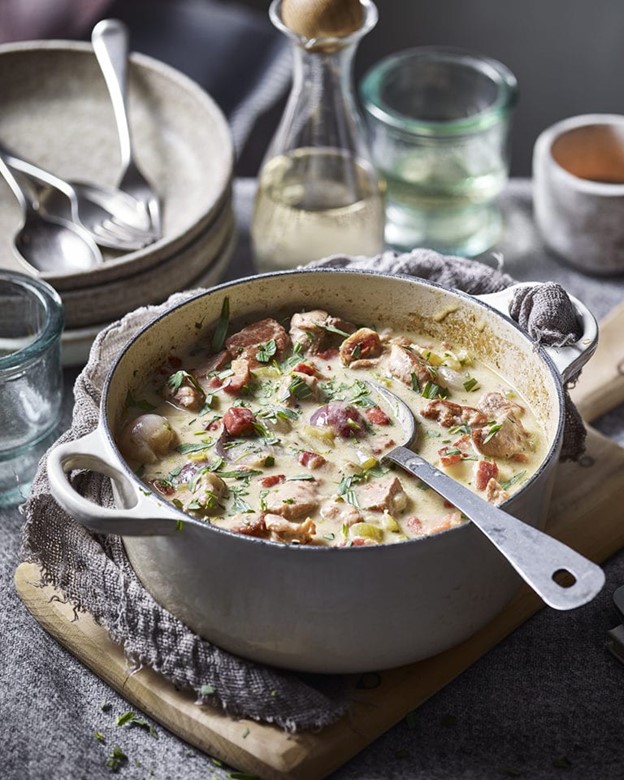 SERVES 6,   HANDS-ON TIME 35 MIN,   SIMMERING TIME 2-2½ HOURS
During the cold winter months, nothing beats this hearty simmered casserole. This recipe with pork and cider promises not only to fill you with warmth but also fill your home with wonderful aromas while you cook.
Ingredients
Olive oil for frying
1kg pork shoulder, cut into 2.5-3cm cubes
400g shallots, peeled
200g bacon lardons
1 onion, chopped
2 celery sticks, chopped
Large knob of butter for frying
300ml medium-dry cider, plus an extra 1 tbsp and a splash
400ml chicken stock
1 tbsp cornflour
100ml crème fraîche
2 tbsp dijon mustard
Handful fresh chopped tarragon
Method
Heat a glug of oil in a large pan. Add the pork in 2-3 batches and brown for 6-8 minutes per batch, transferring with a slotted spoon to a plate. Add the whole shallots and cook for 2-3 minutes until browned, then transfer to a plate.
Meanwhile, fry the bacon in a large flameproof casserole with 
a splash of oil for 4-5 minutes until crisp, then scoop out with a slotted spoon and set aside. Put the onion and celery in the casserole with the butter, then cook for 6-8 minutes over medium-high heat until softened.
Add the pork, bacon, 300ml cider and stock, bring to a boil, then turn down the heat. Partially cover the casserole, then simmer gently for 1 hour. Add the shallots, then cook for another 1-1½ hours until the pork is tender.
Mix the cornflour in a small bowl with the 1 tbsp cider, add to the casserole and cook for 5 minutes, stirring, to thicken the sauce. Stir in the crème fraîche, mustard and most of the tarragon, then season and add a splash more cider. Serve scattered with the remaining tarragon with crusty bread and potatoes or rice.