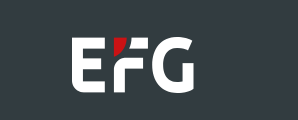 Introducing EFG
EFG International brings entrepreneurial thinking to Swiss private banking.
We've created a new banking experience through our business model, which centres around our clients and the independent and customised advice that our Client Relationship Officers (CRO) offer.
Our clients benefit from our financial stability and our global reach. With our scalable multi-shore platform, we operate hubs in Switzerland, Europe, the Americas, Asia Pacific and the Middle East.
The unique quality of our service and advice, and the investment performance we generate for our clients, are the ultimate measure of our success.
EFG Bank (Luxembourg) S.A.
56, Grand-Rue  P.O. Box 385 –
L-2013 Luxembourg
Phone: +352 26 454 1
---