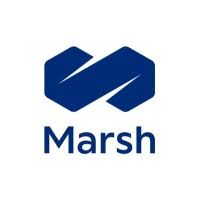 About Marsh
Our purpose is Possibility. At Marsh, the idea of possibility isn't just something we talk about — it's something we've lived for over 150 years.
We help our clients and colleagues grow — and our communities thrive — by protecting and promoting Possibility. We seek better ways to manage risk and define more effective paths to the right outcome. We go beyond risk to rewards for our clients, our company, our colleagues, and the communities in which we serve.
Global Reach
With offices in more than 130 countries, Marsh is the world's leading insurance broker and risk advisor. We provide industry-focused brokerage, consulting, and claims advocacy services, leveraging data, technology, and analytics to help reduce our clients' total cost of risk.
Diverse group of laughing businesspeople working on a laptop and reading paperwork together and at a table in an office
Local Expertise
With around 40,000 colleagues worldwide, we provide our commercial and individual clients with insights, advice, and support in the local markets in which they operate or where their business may face risks. We help you understand coverage nuances, regulatory developments, and risk trends. And we work together with you on placement, mitigating risk, and optimizing your risk spend.
---
Creahaus S.A.
When a family builds for families…
…it changes everything. CREAHAUS: it's not just that the Olmedo family has been at the head of the company for nearly 30 years now, but rather that the entire workforce is one big family.
When we start a new project, we always work with this spirit in mind. Our vision is long term, and a project doesn't stop when we hand over the keys. Indeed, it's just one of many stages, because this is when our customers' dream becomes a reality. We support our buyers throughout their decision-making process, from construction to handing over the keys. We focus on every detail, even the invisible ones, so that your project runs smoothly.
Everyone builds with the same products, but our attention to detail and our experience make all the difference. When a project is properly researched with clear processes, and external contractors are experienced and well supported, then we can spend our time and energy on perfecting every little detail to make your house unique and perfect.
How many customers are already on their second, if not third CREAHAUS project? Nothing makes us prouder than a returning customer who trusts us to help them throughout all the stages of their life.
---