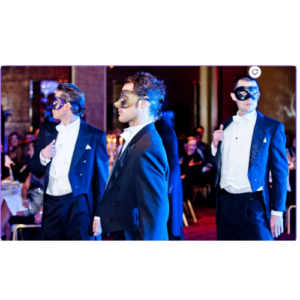 Imagine walking into the ballroom of an old Italian castle. A beautiful woman twirls around the dance floor and your eyes meet hers behind an elegant mask. As her dress floats above the golden tiles, she smiles coyly and extends her hand. Any other day, you would be hesitant. But today, with your own mask, you are free of inhibitions. This is the power and mystique of masquerade balls.
Wearing masks gives us the freedom to be someone else. It's no wonder masquerade balls are a favorite among Halloween lovers. You can dress up and still look sharp while remaining anonymous. But where did the idea of wearing masks to dances come from?
During the Middle Ages, Christians would observe Carnival season. This was the last chance to indulge on all the food and wine possible before fasting for Lent. People held parades, wore masks, and danced in the streets. All social restrictions were cast aside and the poor were able to mingle with the wealthy. In addition to giving up meat, Christians were supposed to abstain from "unholy" acts during Lent. As a result, trysts with masked strangers were permitted to put these desires to rest.
Carnival is derived from the Latin carne vale meaning "farewell to meat". However, the idea of dressing up for spring stems from the festival of Isis, Carrus Navalis. Roughly translated as "naval cart", ancient Egyptians would carry images of the goddess Isis out to sea to bless the first sailors setting off after winter. This march was accompanied by a parade of people dressed like animals and other sacred costumes.
Masquerade balls evolved out of these adopted traditions. Men and women usually wore puffy outfits with lace around the collars known as Vandykes. The term is derived from Flemish painter Anthony van Dyck who was famous for depicting such outfits in his art. Masks were often adorned by feathers or jester bells. Because of its roots, masquerade balls were notoriously labeled as nights of debauchery.
A Classy Revival
In the 18th century, masquerades were held to celebrate special occasions in royal families, such as weddings and coronations. They became particularly popular in Italy during the Renaissance but fell out of grace when the Venetian Republic collapsed in 1797.
In the early 1700s, a Swiss man named John James Heidegger traveled to England where he revamped the balls into more extravagant affairs. After impressing King George II with his operas, Heidegger used masquerades as a way to promote high fashion to the public. People were inspired by the glamour and masquerades became games for guests to figure out each other's identities.
Credits: Full reproduction permission granted