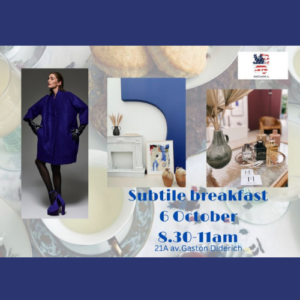 Dear partners of the MBC club,
You're invited to a morning of art and elegance!
Join us for a breakfast from 8:30 AM to 11:00 AM at the Subtile Art and Objects Gallery. Subtile welcomes you to a timeless moment to start your day. Explore the unique pieces by gallery designers and artists, which will be exceptionally accompanied from October 5th to 7th by the high-fashion creations of Mona Wie, a sustainable Belgian brand, and the fragrances of Atelier Flou from Luxembourg.
For this breakfast, Subtile is delighted to partner with The Little Bakeshop, a home pastry chef. Fleur, Subtile's dedicated pastry chef for their highly successful monthly afternoon tea events, will be crafting a delightful experience.
When art extends to your plate, surroundings, and attire, happiness knows no bounds.
Join us for this exquisite morning at Subtile on 6/10 from 8.30am to 11am and experience a blend of art, fashion, fragrance, and pastries.
Please RSVP by 5/10 to info@subtile.style.
Address: 21A avenue Gaston Diderich 1420 Luxembourg
Parking: Monterey or in the surrounding streets.
We look forward to sharing this exceptional morning with you!
https://www.subtile.style/haute-couture-parfumerie/
P.S.: AmCham staff will be present, so feel free to ask any questions you desire.