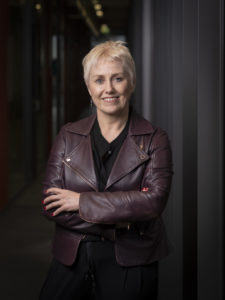 Amcham: Please personally introduce yourself to our readers so they better understand yourself via your career background.
Sasha Baillie: I have spent 15 years of my career as a Luxembourg diplomat, which included foreign postings in Brussels and Moscow. In 2014, I joined the Ministry of the Economy as Deputy Chief of Staff and Diplomatic Advisor of the Deputy Prime Minister. Within the Ministry of the Economy, I have run an initiative to reform Luxembourg's economic promotion that led to the creation in June 2016 of the Luxembourg Trade and Investment Board. I also co-founded and chaired the Luxembourg Nation Branding Committee until 2019 and steered the work that led to the creation in 2015 of LuxGovSat (a joint venture between the Luxembourg Government and SES) where I served as Chair of the Board. Since May 2018, I'm the CEO of Luxinnovation. I also remain a member of the Coordination Committee of the Ministry of the Economy.
Please introduce Luxinnovation both via its history, its objectives, size and scope of activities since its creation.
We are Luxembourg's national innovation agency, a public private partnership between the Ministry of the Economy, the Ministry of Higher Education and Research, the Chamber of Commerce, the Chamber of Skilled Crafts and FEDIL. The agency was created in 1984 – so 38 years ago – at a time when the country's economy was just recovering from the steel crisis of the 70s that brought it to its knees. Fortunately, as that crisis hit, a new sector emerged, the financial sector, and the economy was again thriving. However, there was a strong realisation of how important it is to ensure that the country's economy does not become overly dependent on one sector. Economic diversification needed to be actively fostered. And innovation is the way to ensure that the more traditional manufacturing and industrial sectors of the economy would not be neglected.
What began as a small entity of a handful of staff, has today become an organisation of 85 people from 13 nationalities, who provide support to all types of companies from very diverse sectors of the economy – manufacturing, materials, ICT, construction, automotive, commerce, health tech, creative industries, and so on. We accompany heavy large-scale industry with their high-tech innovation projects using high performance computing, artificial intelligence and robotics, as well as SMEs at very different levels of digital maturity requiring very different types of advice and support instruments. We also support start-ups and run the country's flagship acceleration programme. In addition, the mission of the agency was further enlarged about five years ago to also take care of attracting companies from abroad that would fit perfectly into our ecosystem.
Luxinnovation's mission can be summarised along two dimensions: the empowerment of individual companies to today to be ready for the challenges of tomorrow, and the identification of innovation opportunities and promotion of collaborative innovation projects that stimulate the development of a sustainable, competitive, and digital economy. The first task includes awareness raising, the definition and analysis of company needs, the identification of the most suitable tools that companies can benefit from in their innovation efforts, and project assistance and follow-up. Our support to the economy includes turning innovative ideas into viable projects benefitting sectors or groups of companies, producing and sharing in-depth knowledge about the Luxembourg economy, attracting foreign companies that fit into our ecosystem and building an ecosystem where start-ups can thrive.
It's important to point out that the costs of running the agency are covered by 90% by the State budget. Yet the governance structure ensures equal representation of public and private.
What has been the impact of Covid during the past several years on how you operate and what you have been doing?
Like many organisations, we had to face the challenges of the pandemic on our internal functioning and on the support we offer companies during this period of disruption. In the space of a few weeks, when the crisis arrived, we had to adapt to the new economic and health situation, as did all companies. Our first priority was obviously to protect the health of our staff and to find the best ways to continue offering our services in collaboration with our partners.
During the first months of the crisis, we supported the Ministry of the Economy in promoting new funding schemes put in place to facilitate innovation and investment during the COVID crisis, and advised companies in relation to the preparation of their aid applications. We developed the web platform EPI-Covid19.lu, set up to connect the national supply and demand of personal protective equipment, and contributed to the creation and execution of the StartupsVsCovid19 competition. Together with the Ministry, we also launched the Fit 4 Resilience programme, which aimed to help companies overcome the crisis and reinvent themselves in order to emerge stronger.
Beyond the immediate support that we were able to provide to companies, we have also analysed the long-term impact of the pandemic on our behaviour and habits. A number of trends were dramatically accelerated. I am thinking in particular of digitalisation, but also of the development of more sustainable and circular economic models.
It is a given that innovation is the key to unlocking the post-crisis growth potential of companies. Past experience, notably from the 2008 crisis, have shown that companies that invested the most in innovation during the crisis period perform better after the crisis than those that did not invest in innovation. This is because they were agile, forward-thinking and first in their markets. Our role is to raise awareness and support companies in innovation so that they can anticipate changes, recognise new trends in customer behaviour, and act as quickly as possible.
How has your organization evolved as the world has changed?
We have recently conducted a major strategic reframing effort, which resulted in a strategic roadmap for the years 2022-2025. We sought to align our objectives with the broader national, European and international strategies in order to develop a competitively sustainable and digital economy through innovation.
In order to achieve this, we have created a Digital Transformation department in order to consolidate all our digital transformation support services to render our digital and data technology know-how more accessible to companies.
We have also laid greater focus on helping companies and the economy to function in a more sustainable manner and develop technologies that help meet the Sustainable Development Goals thanks to the innovation support instruments that we provide. These activities that foster sustainable economic development through innovation are assembled in the form of a Sustainability Innovation Hub.
Finally, we seek to render the knowledge we gather and produce with regard to tech trends, mappings of our ecosystem and studies relevant to Luxembourg's economy and innovation ecosystem more accessible to a larger audience through a Knowledge Hub which we are setting up.
What are you most proud of as accomplishments during the last few years?
First of all, I am so grateful for the tremendous mobilisation and unfailing commitment of all our employees. If the agency has been able to develop over the last few years and to gain the trust of our stakeholders, it is obviously thanks to everyone's commitment, even in times that have been very trying for everyone. That's a true accomplishment.
Drafting a strategy for Luxinnovation that involved all staff in the reflection process has definitely been a big step forward for us as an organisation. Our strategy was adopted by our Board and then approved by our Government at the end of 2021. It fits perfectly with the Government's twin transition goal towards a digital and sustainable economy whereby innovation is a means to that end. It is also aligned with the European Green Deal. Each action that we take and every project that we manage is a specific contribution to achieving those overall goals. The purpose is clear.
This also filters down within the organisation. Colleagues are empowered. They are now better able to assess whether an idea makes sense to pursue, fits within our mission and helps to achieve our strategic objectives – or not. They also have a check list of values to guide them in their behaviour and actions. Is the project relevant in the sense that it addresses what really matters? Are we behaving in a reliable and trustworthy manner towards our partners and clients? Are we being forward-thinking or just reactive? And are we customer-centric, i.e. focusing on the needs of the companies we serve?
One main concrete accomplishment I would like to highlight is the launch of Fit 4 Sustainability, a programme that allows companies to make good use of innovation instruments and subsidies to help them in their transition towards a more sustainable mode of functioning that is respectful of our planet and its limited resources.
What have been you biggest disappointments?
I tend to get disappointed when I encounter blockages to information sharing and collaboration within our ecosystem. But I have also learnt to understand that many of those blockages are the result of uncertainty. And I believe to overcome uncertainty you have to build trust which requires conscious and tireless engagement.
How has your leadership style evolved or changed during the past two years?
I tend to strive for excellence and thus have high expectations. I hope I have learnt to become more understanding and patient.
To what degree and how has Luxinnovation adapted technology innovation and undergone any digital transformation? Is there more to do in this area.?
New digital technologies provide us with the means and the tools to better obtain relevant data, channel and use it in a manner that allows us to take better decisions and discover new opportunities. As an innovation agency that encourages companies to embrace new technologies and explore new business models with the data at their disposal, we ourselves need to question the way we use and process the information and data within our reach. We should seek ourselves to apply the technologies that provide us with the opportunity to leverage our combined knowledge in the interest of a sustainable and data-driven economy. To ensure the best possible use of technologies in our decision processes, we need clarity about what we seek to achieve and how we work together to reach these goals. Workflows, roles, and responsibilities need to be spelt out clearly. Hence, the importance of clarifying and streamlining our internal processes and the flows of interaction with external stakeholders, to which the digital tools can be applied.
What are the Luxinnovation most important current and future projects and how are they moving forward?
The implementation of our 2022-2025 strategic plan, which served as the basis for the multi-year Performance Contract that governs our activities, is the backbone of our business.
Given the urgency of reducing the carbon and environmental footprint we are engaging actively with the Ministries of Energy, the Economy and the Environment as well as with the KlimaAgence to combine our forces in a way that best helps companies in their sustainable transition.
Luxinnovation's contribution to this joint effort notably includes our Fit 4 Sustainability programme, which gives companies access to external expertise for their decarbonisation and environmental transition projects as well as State subsidies. We help companies that want to carry out sustainable innovation projects identify the most suitable subsidies, and put them in contact with relevant experts and partners to work with. We are also in the process of mapping out all the so-called "sustainable solutions providers" within our ecosystem to get a better overview of all the solutions that are in our reach. Finally, Luxinnovation is working on some collaborative projects to develop solutions that meet the concrete needs of specific types of companies within a sector or companies located in the same area that encounter the same hurdles and require common solutions.
We are also working on some key flagship projects. These include, among others, the recently launched e-Holzhaff digital market platform for the local and regional wood industry (e-holzhaff.lu), and the development of a virtual and physical platform for the deconstruction of buildings and the reuse of materials. 
How do you assess the attractiveness of Luxembourg as a business location for international companies and what changes do you think we need to make to further enhance our attractiveness?
Foreign companies that choose to locate in Luxembourg and the international businesses that further develop their activities here often highlight Luxembourg's highly skilled and multinational talent pools as one of the main attractions. They also underline the positive business climate, the openness and accessibility of both public and corporate decision makers and the ease of getting support when they need help. Luxinnovation is very well connected to businesses, research centres and the authorities, which allows us to make helpful introductions for international companies interested in gaining a foothold inside the EU. We have for example supported Infinite Reality, one of the global metaverse leaders, which has recently announced its intention to set up its European HQ in Luxembourg.
Luxembourg's outstanding digital infrastructure, and notably its business-oriented high performance computer MeluXina, provides an excellent environment for the emerging data economy. I am convinced that if Luxembourg can render data from multiple sources accessible and usable whilst guaranteeing data protection and personal privacy, we can offer businesses here a real opportunity to generate value and build a new backbone to our economy. We have managed in the past to build up a financial centre in Luxembourg by understanding the global trends and acting in an agile manner. As a small and agile country with a can-do mindset and diversity of skills, I'm confident that we can do the same with data.
Amcham would like to personally thank Sasha Baillie for this very insightful interview!
The views and opinions expressed are those of the authors and do not necessarily reflect an official policy or position of AMCHAM.lu. Any content provided by our interviewees are of their opinion, and are presented in their own words.