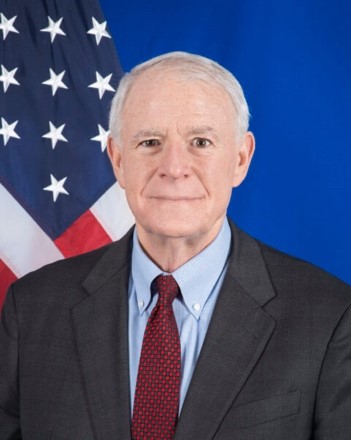 Ambassador Thomas M. Barrett,  U.S. Ambassador to Luxembourg
UKRAINE
AMCHAM:  Why are the US and other NATO countries so reluctant to put combat troops on the ground to help the Ukrainians fight their just battle against this illegal Russian invasion?
Ambassador Barret:  The core task of NATO is to keep our thirty nations safe. We have a collective responsibility to ensure the conflict does not escalate and spread beyond Ukraine because that would be even more devastating and dangerous. President Biden and NATO have made clear we will not move into Ukrainian airspace or move troops into Ukraine.
However, the United States and NATO allies will continue to support Ukraine in its right to self-defense, as enshrined in the UN Charter. The U.S. has committed more than $1 billion in security aid to Ukraine just in the past two weeks, for $2 billion since the start of the Biden administration.  We will continue to expedite the delivery of this equipment.
In addition to supplying money, humanitarian aid, and military equipment to Ukraine, the US has dispatched men and equipment to the Baltic countries, Poland and Romania. Please explain what military forces have been positioned where and why?
President Biden has made clear the U.S. will defend every inch of NATO territory with the full force of American power. That commitment is why the U.S. continues to reinforce NATO's eastern flank and strengthen our deterrence and defense capabilities in response to Russian aggression. The United States has surged thousands of forces and additional capabilities to Europe and has welcomed the new deployments made by our Allies.  The establishment of four new battlegroups in Slovakia, Romania, Bulgaria, and Hungary is a strong signal we will collectively defend and protect every inch of NATO territory.
In addition to NATO deployments, what other actions is the US taking militarily with its forces to counter this Russian aggression?
As Ukraine bravely resists Russia's aggression, the U.S. and NATO Allies provide immediate support, including a record amount of security assistance.
NATO Allies have trained tens of thousands of Ukrainian troops for many years. Allies have also provided significant quantities of critical equipment, including anti-tank and air defense weapons, drones, ammunition, and fuel.
This training and equipment are helping Ukraine to defend itself. Ukraine has a fundamental right to self-defense, enshrined in the UN Charter, and NATO Allies and partners will continue to support Ukraine uphold that right. NATO Allies and partners are also hosting millions of Ukrainian refugees.
Are there any circumstances under which the US would be willing to impose a No-fly zone over Ukraine?
We continue to provide security assistance to Ukraine but enforcing a no-fly zone over Ukraine would be a significant military operation.  It would require attacks on air defense systems, radars, and airstrips, in Russia and Belarus. It would also imply shooting down any aircraft that enters the no-fly zone.  This would bring NATO into direct conflict with Russia and put countless additional lives at risk.
The FAA has issued a Notice to Air Missions (NOTAM), restricting U.S. commercial or cargo flights from operating over Ukraine, Belarus, and parts of Russia. Other countries have done the same.
Is the US satisfied with the effectiveness of the lines of communication between Russia and the US during this current crisis?
I am not sure you can use the term "effective communication" in this context. President Putin has rejected every good-faith effort the United States and our Allies and partners have made.  He has recklessly cast aside diplomatic options that were on the table for discussion, and it still appears he has never been seriously interested in diplomatic engagement.
Is the US completely satisfied with the degree of cooperation and partnership between the US and our NATO allies?
In addition to the courage and resilience of the Ukrainian people, the unity and speed of response from NATO and EU, and allies to this crisis have been one of the most impressive outcomes of this conflict.  We have together proven NATO is more united and determined than ever, and it seems clear this is something President Putin was not counting on. Throughout this crisis, the United States has been steadfast in its ironclad commitment to NATO. President Biden has been very clear that we will defend every inch of NATO territory with the full force of American power.  Several NATO countries have announced plans to increase defense spending in line with their NATO commitments. Many new voices across Europe and within national legislatures recognize the importance of investing in defense and urging their governments to spend more.
Are there additional possibilities for accelerating sanctions or other actions not yet used by the US and the NATO alliance, and why have they not already been used?
As long as President Putin continues this war, the United States and our allies and partners are committed to ensuring the Russian government feels the compounding effects of our current and future economic actions.
During his trip to Europe last week, President Biden joined our allies and partners to impose further sanctions on Russia and tighten the existing sanctions to crack down on evasion and ensure robust enforcement. And we continue to ratchet up the pressure on Putin's oligarchs.
It's fair to say the economic measures already in place are an unprecedented package that has imposed immediate and long-term costs on Russia's financial system and economy.  If you look at the numbers, it has already reduced Putin's ability to project power:
The ruble is worth close to a penny, declining by 50 percent since before the invasion.
The Russian Central Bank has doubled interest rates to 20 percent and imposed capital controls.
Inflation in Russia is projected to spike above 20 percent, and the Russian government's rating has been downgraded to "junk" status by major credit rating agencies.
Close to 400 multinational companies have left Russia in a mass exodus by the private sector, reversing 30 years of economic progress in a span of a few weeks.
Overall, the economy is forecast to contract as much as 15 percent of GDP in 2022.
Considering the blatant aggression attempted by Mr. Putin, is there any way forward that spares him punishment for his illegal and harmful acts?
Our focus is first and foremost on doing everything we can to support Ukraine and bring this war to a quick end, to stop the suffering of the people of Ukraine as a result of the Kremlin's aggression against Ukraine.  President Zelenskyy has also made it very clear that he is open to a diplomatic solution that does not compromise Ukraine's sovereignty and territorial integrity.
While doing that, we and our allies are also looking very carefully and documenting what is happening, supporting Ukrainian authorities already working to document potential crimes for prosecution.
Earlier this month, the UN Human Rights Council, on which the U.S. and Luxembourg sit together, established a UN Commission of Inquiry to investigate possible human rights violations and abuses and violations of international humanitarian law by Russia's forces, and 45 OSCE countries have launched an Expert Mission to examine reported human rights abuses or violations and violations of international humanitarian law, including possible war crimes by Russia's forces in Ukraine.
Please tell our readers how it has come to pass that you were identified as a potential candidate to become the Ambassador to Luxembourg. How did you end up on a shortlist for consideration by the President? Did you self-apply, or were you selected by other means?
I was honored to be nominated by President Biden as the nominee for U.S. Ambassador to Luxembourg.  I was evaluated and confirmed by the Senate and then officially appointed by the President. You would have to ask the President his exact reasons for nominating me. Still, I am sure having been a long-serving Mayor of Milwaukee, Wisconsin, a state with a large number of immigrants from Luxembourg and close historical ties to the country, likely had something to do with his choice.
What background questions were you asked, and what documentation was reviewed as part of this process? 
Before nominating an ambassador candidate, the official process is for the White House to review their qualifications, finances, career, and personal life. In this instance, they then consult the foreign nation's government, Luxembourg, in a process called 'agrement,' set by the Vienna Convention of Diplomatic Relations. During the next step, the Senate confirmation process, the Senate Foreign Relations Committee members ask the nominee several questions about the foreign country of destination, their goals, and background in private meetings and a public hearing.   The Committee later votes on blocs of nominees to send to the entire Senate floor for confirmation, which can take several months.  After Senate confirmation, the nominee is sworn in by a U.S. Federal official and becomes the Ambassador-designate.  Even after arriving, one is not fully officially accredited until the host government accepts your credentials, which in Luxembourg is done by His Royal Highness, the Grand Duke.  It is a long and thorough process before a nominee officially becomes a sitting Ambassador!
How were you informed that you were identified as a candidate? By letter, a phone call from the President… other means?
After discussing my interest in the position with President Biden, I received a call from the President's office confirming President Biden would like to nominate me.
Please explain the details of the training and orientation program for US Ambassadors.
The official training program is rather rigorous, informally known as "Charm School" for Ambassadors.  The curriculum introduces nominees to the structure of the State Department and its various functions, as well as the responsibilities and authorities of an ambassador, including running an embassy.  You learn from previous diplomats and top professionals about the nuances of negotiation, public speaking, and even how to navigate complicated table settings!  Of course, U.S. Ambassadors come from many different backgrounds, generally from business and politics for political nominees such as myself, but about 70% of Ambassadors are career State Department diplomats.
What is your first reaction to Luxembourg? What do you like best, and what surprises you?
I felt at home right away in Luxembourg. People here have been warm and so welcoming, and the country is absolutely gorgeous. I can see a lot of similarities with Wisconsin and think that is one of the reasons being here feels so familiar. I met many Luxembourg Americans in Wisconsin who shared their many positive feelings about the country.  I have been struck by how many languages Luxembourgers freely speak and how much that enriches Luxembourg's society.
Please share your instructions and mandate from the President and Secretary of State with our readers if allowable.
My role in Luxembourg is to represent President Biden and the Secretary of State, advance the administration's foreign policy goals, and serve the American people with the highest standards of ethical conduct and diplomatic discretion.
What objectives are you inspired to accomplish while US Ambassador to Luxembourg?
Recent events have demonstrated the importance of strong alliances built on shared values more clearly than ever. I see many opportunities to bolster the already robust bilateral partnership between Luxembourg and the United States.
Bilateral trade and investment between the United States and Luxembourg also continue to be one of the cornerstones of our partnership. I look forward to working closely with the business community and the government to advance new opportunities between our countries.
I will also look to expand our cooperation in the frontier of space, where Luxembourg is a true global leader and a key priority for the Biden Administration in combatting climate change.  Luxembourg is at the forefront of climate finance, which is undoubtedly an area of interest.
This year, the United States and Luxembourg serve together on the United Nations Human Rights Council for the first time. We continue to work together to protect human rights and hold accountable those who violate these fundamental rights and freedoms, such as trafficking in persons.
Strong ties between countries are also built on cultural connections, which are another priority for me.  That includes education, exchanges, popular culture, and commemorative events.  We're already working on strengthening U.S. partnerships with the University of Luxembourg. The Esch22 cultural events this year include a host of prominent American musical artists, which I'm really excited about.
To help people better know you as a person, what do you like to do in your non-working time for (a) health and fitness, (b) intellectual stimulation, and (c) entertainment?
My wife Kris and I very much enjoy biking and walking, which seems a perfect pastime for Luxembourg, where -the cities are so walkable and accessible and with so many well-marked trails around the country. I am also a keen basketball fan and enjoy going to games, which I soon hope to do in Luxembourg.
What are your favorite (a) breakfast, lunch, and dinner meal choices, and (b) dessert and (c) drink of choice?
Overall, I am not very specific about food. I enjoy a lovely meal and always appreciate the effort that has gone into making one. I am equally happy just having something quick on-the-go. If I had to bring out one meal, I could not say no to; it is my wife's "Sloppy Joes," which she has absolutely mastered. We are both very much looking forward to getting to know the Luxembourg cuisine as well, which I hear is fantastic. I do not have a drink of choice, but Wisconsin is the only state in the U.S. where you can buy Luxembourg's famous Bofferding beer, and I did quite enjoy that and look forward to visiting the brewery soon here.
What is your favorite music group and song?
One song that has been on my mind since arriving in Luxembourg is by John Denver because I feel like I am living the lyric "Coming home to a place I'd never been before…."
What are your two favorite books, and why?
There are so many great old classics and new contemporary writers in the United States and worldwide that it would be impossible to name just two. I like books that challenge one way of thinking and make the reader see something in a new light— a significant contribution great writers make to society.  One of the books I read years ago that really left an impression on me was "And Still I Rise," a collection of poems by Maya Angelou, an American poet, and civil rights activist.
 Please tell us if there are any questions you would have liked to be asked and what answers you would have given?
I look forward to meeting as many members of the American Chamber of Commerce as possible and working with the Chamber to continue advancing strong economic ties between Luxembourg and the United States.
Thank you, Ambassador Barret, for this fascinating interview!
Kindly note this interview was conducted on 28th March, 2022