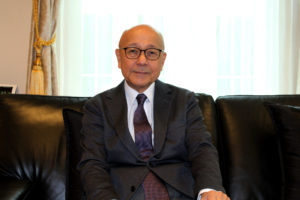 AMCHAM: Mr. Ambassador, please introduce yourself and your career to our international audience.
I am a career diplomat with the Japanese Foreign Service for the last 39 years with postings in the UK, Brussels with our Mission to the EU, Iran, the New York consulate, and the Philippines. Before I came to Luxembourg in February 2020, I was on loan to the Imperial Palace to deal with the ceremonies of the transition from H.M. Emperor Akihito to H.M. Emperor Naruhito. I also had the honour to welcome H.R.H. Grand Duke Henri and H.R.H. Princess Alexandra as State guests to the Imperial Palace in 2017 on the 90th anniversary of the establishment of diplomatic relations between our two countries.
Has your understanding of Luxembourg and its people changed during your tenure as Ambassador here in Luxembourg?
Yes and no. There are good books on the history and various contemporary aspects of Luxembourg available in Japanese, and so I had a good background knowledge about the country by the time my wife and I arrived in this country.  However, we were very positively surprised by how warm, friendly, and welcoming people in Luxembourg are to new arrivals like us and that every friendship they offered us has continued up to this day. It is a country of multicultural richness that made us feel very welcome.
How are Luxembourg's values and ways of living like and different from Japanese values and ways of living?
Well, of course, the level of wealth here is generally higher than in Japan, but so is the cost of living.
While I was used to the varied landscapes that exist in Japan, from seaside to volcanic mountains, the advantage of Luxembourg is that it is easy to travel from Luxembourg. There are fantastic places to visit that are just a short drive or train ride away.
Luxembourgish people, much like the Japanese, have a real reverence for heritage and their past. It is nice to see monuments and histories being preserved for future generations.
I also feel that the sense of sympathy, hospitality, and deep-rooted kindness is shared by our two nations.
I also feel that both our nations take great pride in our national produce.
What three or four experiences have made the most profound impression on you during your time in Luxembourg?
Within one month of my arrival in this country, public transport became free on a national level. That was amazing and it made me understand that Luxembourg is a pioneer country in many ways.
Funny enough, I should mention food portion sizes: compared to Japan, portion sizes for one dish are very large here. Though it is misleading to think we eat less in Japan, I think the difference is that we tend to serve multiple small portions instead of just one.
Another point is the number of green spaces available within the capital city and the surrounding outskirts. Luxembourg is certainly not a concrete jungle, and I enjoyed exploring small green spaces dotted around that allow a brief escape from the hectic traffic.
I was very delighted to discover that Luxembourg has a way to promote its local wine and beers through annual wine and beer fests, which double up as fantastic opportunities to get to know Luxembourgish culture and places outside of the capital. These annual festivities are also an opportunity to get to know lesser-known produce such as Fiederwäissen, Viz, etc. which is on offer for a very brief period.
What advice do you give to Japanese business persons and their families to help them settle and enjoy working and living in Luxembourg?
Improve your language skills because people in Luxembourg are very talented in languages.  My English is passable, but I would enjoy my life here much, much more if I could make myself understood in French. I have often said something in Luxembourgish at the start and end of my speeches, and people always welcomed it with big smiles. Making an effort to speak the local language is always much appreciated wherever you go in the world.
If you drink wine and can afford to, I encourage you to have a glass of Luxembourgish wine or crémant to complement your meal.
Many Japanese love steamed rice but enjoy good local bread from time to time.
Be on a balanced diet and be always alert to possible weight gains around your belly, especially if you enjoy trying out the wonderful pastries in the Luxembourgish bakeries.
Try to faithfully honour holiday periods in Luxembourg, which comes every two months with school breaks. If you do not have children, you can enjoy off-peak seasons.
And most importantly, discover Luxembourg and its surroundings! You do not have to get on an expensive flight, a short train ride will get you to lovely places to visit, and free public transport means you are only paying from the border onwards.
What activities have you and your wife enjoyed engaging in to unwind from the stresses of your professional lives, and what are your hobbies?
Alas, our golf bags always stayed in the basement, but my wife and I enjoy taking long walks and we walked especially lots during the Covid-19 period. We enjoyed going on hikes following guidebooks like "201 Circular walks." This was also a great way to compensate the slightly heavier Luxembourgish meals, and it has allowed me to continue wearing my older clothes (laughs).
Please introduce us to your favorite book and favorite piece of music 
'Dictionnaire amoureux du Japon' by Richard Collasse which my dear tatamisé[1] colleague Pierre Gramegna gave me; 'An Outstanding Luxembourg Diplomat: Hugues Le Gallais in the Turmoil of the Second World War' by my dear diplomat colleague Paul Schmit, with its description of Japan during the inter-war period; and 'The Battle of the Bulge in Luxembourg' by my dear friend Roland Gaul, founder of the National Museum of Military History in Diekirch.
My favourite song is 'Mr. Roboto' by Styx (1983) with its repeated phrase in Japanese 'Domo arigato' (thank you).
What is the next step in your career?
I will take up the post of ambassador to Jordan, arriving there at the end of October. I spent three years in Tehran, and briefly visited parts of the Middle East including Israel and Egypt; however, I have never been to Jordan. It will be a different working environment from Luxembourg and my wife and I wish we could have stayed in this country longer. Nevertheless, a new job is waiting, and I look forward to this new adventure.
What special memories will you take with you when you leave Luxembourg? 
I will always remember Luxembourg as a beautiful country with its forests and pastures, its safe, clean, and well-taken-care-of streets in the cities.  But most of all, the overarching friendship people whom we came to know offered us since we arrived in Luxembourg in February 2020, just one month before the COVID-19 lockdown.  It had been a difficult time for everyone, and we are leaving just as the pandemic is about to go away. We did our utmost, and we will cherish the memories of the generous friendship and kindness along with us.
[1] Foreign person who became Japanese through culture or style
AmCham would like to take this opportunity to thank Ambassador Okuyama Jiro for this interview and we wish him the very best in his next assignment.
The views and opinions expressed are those of the authors and do not necessarily reflect an official policy or position of AMCHAM.lu. Any content provided by our interviewees are of their opinion, and are presented in their own words.