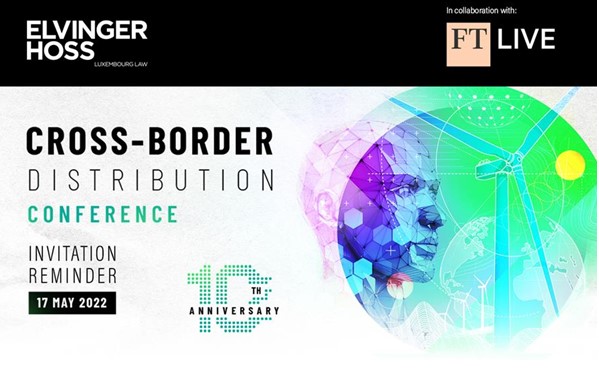 Reinventing distribution for a new age of fund management
Dear Madam, Dear Sir,
Elvinger Hoss Prussen and Deloitte are delighted to invite you to the 10th Annual Cross-Border Distribution Conference organised with the support of Financial Times Live.
When:
Tuesday, 17 May 2022 from 8:40 to 17:40 (CET) 
followed by a networking cocktail
Where:
European Convention Center Luxembourg
4, Place de L'Europe / L-1499 Luxembourg
Access map
In keeping with tradition, the 10th edition promises to be a key event for regulators, leading asset managers and experts to address the distribution industry's hot topics. In particular, for this anniversary edition, we will focus on:
Decentralised finance and the future of distribution
Challenges and opportunities of SFDR
Capitalising on the rise of alternatives
To view the complete agenda, please click here.
Come and join the debate on how today's products will shape those of tomorrow and impact our future distribution models.
As we have a limited number of places available, we encourage you to register as soon as possible by clicking on the button below.
International guests or anyone unable to travel to Luxembourg will have the possibility of selecting "online attendance" during the registration process and they will receive a personal link to watch the conference in live streaming.
To RSVP for in-person or online attendance, please click below no later than 3 May, 2022
Kindly note this event will be organised in accordance with the health and safety protocols in force in Luxembourg at the time of the event. We will advise you accordingly prior to the event of these requirements.
Should you have any queries about this event, please contact luevents@deloitte.lu.
We look forward to welcoming you to Luxembourg on 17 May 2022.
Sincerely,
Jacques Elvinger
Partner
Elvinger Hoss Prussen