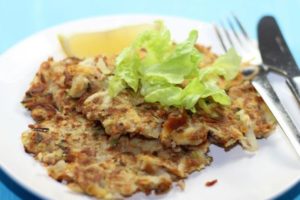 Ingredients
500 g sebago potato (skin on,washed)
425 g canned tuna in springwater (well drained)
4 spring onions (finely chopped)
1 egg (lightly beaten)
2 tsp olive oil
Method
1

Place potatoes in a saucepan, cover with cold water and bring to the boil.Reduce heat and boil for 10 minutes.

2

Drain and allow to cool slightly before grating into a large bowl. Add tuna, spring onions and egg and mix well. Season with salt and pepper.

3

Heat half the oil in a large non-stick frying pan on medium heat. Add 1/2 cup portions of mixture to the pan and flatten with an egg flip (you should be able to get 4 rosti cooking at once).

4

Cook for 3 minutes and flip gently (if they break a little, just push them back together and continue to cook). Cook the other side for 3 minutes.

5

Place potato cakes in a medium-low oven at 120°C (100°C fan-forced) to keep warm.

6

Use remaining oil in the pan and continue with remaining mixture. Serve rosti with salad or steamed veggies.