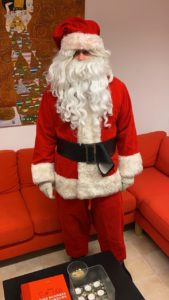 Dear AMCHAM colleagues and friends,
Welcome to the last AMCHAM Newsletter before we take our Christmas BREAK.  Our feature interview this week is by Ralph Sorg the founder and owner of PM Group. This terrific company is new to Luxembourg so not well known by everyone. But it is a company to watch for the future. Mr Sorg and his team are developers of outstanding health food products and we are very lucky he has decided and moved his German company to Luxembourg. As still a bit of an outsider, please read with interest his point of view . You will be glad you did.
Finally in this Newsletter we have been able to arrange to publish an interview between a father and son with the son wanting the father to finally confess and admit that there is no Santa Claus. To the sons surprise the father confirms that Santa does exist… and actually is and stands for a lot more than his son had ever imagined. Read and enjoy this story article HERE and see the photo of Santa we were actually able to take while he was in town checking the list of who has been naughty and who has been nice. |Feel free to pass this article on…
On behalf of the entire AMCHAM team , we wish you a joyous holiday season and extend our very best wishes for a new year filled with happiness , good health and strong success for you, your families and your companies!
With respect and our kindest regards,
Paul
Paul Michael Schonenberg
Chairman and CEO
AMCHAM.lu