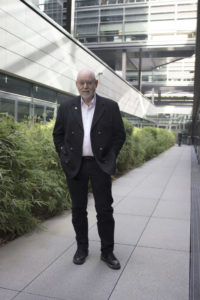 Dear AMCHAM Members and Friends,
Welcome to the 22nd April issue of your AMCHAM Newsletter!
We are delighted to present to you today our exclusive interview with René Closter the President ( and founder) of Luxembourg Air Rescue. I have known and appreciated René for over 20 years, having met and worked with him during the time we both worked at Cedel (now Clearstream). I can attest to the fact, as he says, that he is a tough and stubborn guy who does not give up! I can likewise attest that he is a visionary and the holder of the flame for the mission and vision of Luxembourg Air Rescue. And I can honestly say that I believe we all, and all of Luxembourg owe him a huge thanks for his passion and leadership making LAR the local and global success it has become.  His interview beautifully tells the LAR story. I believe you will find it particularly meaningful as it combines the past with the present and future as he tells how they have evolved to save lives from their humble and hard fought beginnings through the Ebola and Covid repatriation crisis. Please thoroughly read and enjoy this interview! And, yes, AMCHAM and I are proud LAR members and supporters of many years… and you and your companies should be too!
I am likewise pleased we have been able to convince the Luxembourg Times to allow us to republish their excellent article on the challenges we face recruiting the highly skilled employees we need to work in our oversized international, financial, and IT employment sectors.  In simple truth, the international business sector within Luxembourg is 10 time larger than one would expect for a population of 600,000 persons, and therefore it is simply unrealistic to assume we can find and hire the people we need by just recruiting within the country. We need external candidates to augment our local and regional talent!
Also Join us as the HR team from Allen and Overy make the case for safely working from home!
On 19 May we have a joint event with LACC New York about Special purpose Acquisition (SPAC) vehicles, the hottest new product in the financial investment universe. Make a save the date note in your agendas for this evening event.
Likewise join us for the other events we have to offer… and don't miss our great dessert recipe!
With respect and very best wishes,
Paul Schonenberg
Chairman and CEO Amcham.lu