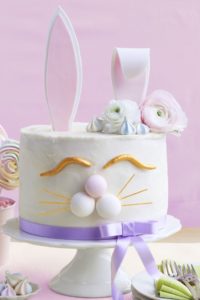 INGREDIENTS
CAKE
Oil, for the cake pans
2 1/2 c. whole-wheat flour
2 c. all-purpose flour
1 tbsp. baking powder
1 tbsp. baking soda
1 tbsp. ground cinnamon
1 tsp. salt
1/2 tsp. ground nutmeg
2 1/2 c. light brown sugar
7 large eggs
1 3/4 c. (3 1/2 sticks), unsalted butter, melted
16 oz. carrots (about 8 medium), grated
1 1/2 c. dried apricots (or golden raisins), chopped
1 c. toasted pecans, chopped
Zest of 1 orange
DECORATIONS
Cornstarch
White gum paste
Pink gum paste
Gold food coloring spray
1 strand spaghetti
Ribbon
Flowers
FROSTING
3 (8-ounce) packages cream cheese, at room temp
3/4 c. (1 1/2 sticks) unsalted butter, at room temperature
1 lb. confectioners' sugar
2 tsp. pure vanilla extract
DIRECTIONS
CAKE
Heat oven to 325°F. Lightly oil three 8-inch cake pans, then line with parchment paper; oil parchment.
In a large bowl, sift together flours, baking powder, baking soda, cinnamon, salt, and nutmeg. Using an electric mixer, beat together sugar, eggs, and butter on medium-high speed until mixture is pale and has almost doubled in volume, 2 to 3 minutes. Fold in flour mixture until not quite combined, then fold in carrots, apricots, pecans, and orange zest.
Divide batter between prepared cake pans and bake, rotating pans halfway, until a wooden pick inserted into center comes out clean, 40 to 55 minutes. Transfer pans to wire racks to cool for 10 minutes before inverting onto rack to cool completely.
DECORATIONS
On a work surface lightly dusted with cornstarch, roll white gum paste 1/8 inches thick and cut out bunny ears. Repeat with pink gum paste, making smaller ear shapes. Using a little water as glue, stick pink ear shapes inside white ears. Wrap the top of one ear over a rolling pin to create a curve, then let dry at least 2 hours or up to 3 days.
Make bunny cheeks and nose using white and pink gum paste. For eyes, roll gum paste into logs, shape, and spray with edible gold spray. Let dry at least 1 hour.
FROSTING
Using an electric mixer, beat cream cheese and butter on low speed until smooth. Gradually add confectioners' sugar, then increase speed to medium and beat to combine. Mix in vanilla.
To assemble, using a large serrated knife, cut tops off cakes to make even. Cut each cake in half through equator so there are 6 layers. Using a little frosting as glue, place 1 layer on an 8-inch cardboard cake round, top with 1/2 cup frosting, and top with another cake layer. Repeat until all 6 layers are used. Cover cake in thin layer of frosting, then refrigerate at least 20 minutes. Spread with remaining frosting, using a large offset spatula to make icing smooth, then refrigerate at least 20 minutes.
Once gum paste is dry, press ears into top of bunny cake and gently push cheeks, nose, and eyes onto front of cake. For whiskers, stick 2-in. pieces spaghetti into cheeks. Wrap bottom of cake with ribbon and top cake with flowers if desired.