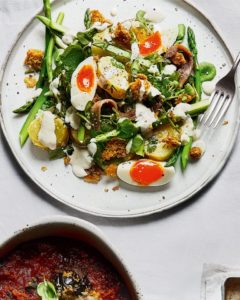 This filling asparagus, egg and potato caesar salad is topped with a creamy homemade dressing and golden parmesan croutons.
Ingredients
200g sourdough bread (can be ordered at any Cactus supermarket)
50g grated Parmigiano Reggiano
2 tbsp olive oil
 4 large free-range eggs, plus 2 large free range egg yolks
 500g new potatoes
250g asparagus spears
6 anchovy fillets
1 small garlic clove
1 tsp dijon mustard
170ml sunflower oil
5 tbsp grated Parmigiano Reggiano
1 tbsp finely chopped parsley
1 tbsp finely chopped chives
60g watercress
Method
Heat the oven to 180ºC fan/gas 6. Tear the sourdough bread into 2cm chunks and toss in a large bowl with 50g grated Parmigiano Reggiano and 2 tbsp olive oil. Spread evenly over the baking tray and bake for 15 minutes until golden. Set aside.
Meanwhile, bring a large pot of water to the boil and cook 4 large free-range eggs in their shells for 7 minutes. Drain and plunge the eggs into iced water to cool. Peel and set aside. Fill the pan with cold water, add a large pinch of salt and the new potatoes. Bring to the boil, then simmer for 15 minutes until nearly tender. Add 250g asparagus spears to the pot and cook for 1-2 minutes more, then drain. Refresh the asparagus in the iced water and set the potatoes aside.
To make the dressing, chop the anchovy fillets and garlic clove on a board with a pinch of salt, then use the flat of your knife to mash to a paste. In a glass bowl, whisk the anchovy paste with the large free-range egg yolks and 1 tsp dijon mustard. Very slowly whisk in the sunflower oil, starting with a drop at a time, whisking to form a thick emulsion, then add the remaining oil in a slow stream, whisking all the time. If the dressing becomes too thick, add a squeeze of lemon juice to loosen it and continue until all the oil is used. Stir in 5 tbsp grated Parmigiano Reggiano and season to taste with more lemon juice, salt and black pepper.
Cut the eggs into quarters. Halve the asparagus spears lengthways, cut the potatoes into thick slices, then toss with a tbsp each of finely chopped parsley and chives, 60g watercress and half the prepared croutons. Divide among plates, top with the eggs and sprinkle with the remaining croutons. Drizzle with the dressing and serve with parmesan shavings, if you like.