What should our readers know about you and why you started LAR?
René Closter: First of all, it is important to know that there was no air rescue service in Luxembourg until 1988. I still vividly remember the day when, working for rescue services in Luxembourg, we decided something had to be done: I was on an operation in Steinsel, where a six-year-old child had been hit by a bin lorry while crossing the street, severing one of his feet.
We had to rush him to a special hospital in France, but we got stuck in traffic and it took us four hours to get there. It was too late. The surgeons could not save his foot. The young boy would have to live with a prosthetic foot for the rest of his life. Had a helicopter been available, it is very likely that we would have got him there in time and that his foot would have been saved. This awful mission affected everyone involved and was, in a way, the starting point of the Luxembourg Air Rescue venture.
At the time, Luxembourg's rescue services were undergoing a much-needed modernization and reorganization. We had a lot of work to do in persuading the authorities to create an Emergency Medical Service (SAMU). But, at long last, in February 1986, politicians passed the law creating the SAMU and since 1991 LAR rescue helicopters have been integrated into the national emergency services.
So, since the very beginning, it has been a rocky road, with many hurdles and challenges, to make Air Rescue what it is today: a non-profit organisation, which for over 30 years has been devoted to saving lives and preserving people's health by operating rescue helicopters and air ambulances in Luxembourg, the Greater Region and around the world.
What readers should know about me? Well, I lived most of my childhood in the northern, rural Luxembourgish town of Troisvierges. Further education was out of question for me at that time. I learned how to be an electro-technician by first-hand experience and, at the age of 17, I left northern Luxembourg to work for the City of Luxembourg's fire service.
Then, I got a great job offer from the company CEDEL, where I worked as Head of Security. I followed intensive management training programs and worked my way up the ladder to become Director of Worldwide Logistics. I held positions in Hong Kong and New York (on the 90th floor of the World Trade Centre!).
But LAR was in my head all day, I had a vision of this organization and finally took the decision to work full-time for LAR and resigned from my other job. In 1995, I was officially nominated as President and CEO of LAR.
During my whole life, I have always pursued my vision. "If you can dream it, you can do it", I always say, even if you need to fight for it. A politician once told me that my head was harder than the oak trees that grow in my home region in the north. Maybe he was right…
By the way, I am also a licensed helicopter pilot, although at my age I'm no longer permitted to fly.
How is LAR today after all these years?
With our subsidiary, Luxembourg Air Ambulance (LAA), we now have a fleet of six MD-902 helicopters and six cutting-edge Learjet 45XR ambulance jets. Our rescue helicopters can reach anywhere in the country within 10 minutes, often bringing with them vital medical support and equipment.
Having become one of the key players in the medical repatriation field, we offer intensive-care aircraft missions around the world, using our own state-of-the art medical fleet and our own LAR pilots and LAR-specialised medical staff. We do this not only for our members, but also for insurance companies and other organisations.
For over 15 years, we have had a cross-border collaboration with Germany: one of our helicopters is dedicated to missions in Rhineland-Palatinate and Saarland and flies over 1,000 missions per year.
We also hold the exclusive contract for delivery of organ transplants for the whole of France – excluding Paris. More than 1,600 requests per year are handled by our Control Centre in Luxembourg. I am very happy to say that this contract was recently renewed for a further five years, confirming the confidence of the French government in the services of LAR group. In recent years, we have flown more than 1,300 times around the world, the equivalent of more than 52 million kilometres!
In addition, LAR acts as an official partner to the US and Nato, in close collaboration with the Luxembourg Ministry of Cooperation and Humanitarian Action, as well as the European Commission. In recent years, LAR has also played a crucial role in the EU Frontex mission on behalf of the Luxembourg government.
It is great to see that LAR has grown from a handful of like-minded friends with one rented helicopter to become one of the world's leading air rescue services and air ambulance providers.
What is it about LAR today that you are most proud of?
I think that I have proven that you can build something meaningful in Luxembourg, even if you come from humble beginnings like me.
Whether you like Luxembourg Air Rescue or not, whether you like René Closter or not, what nobody can take away from me – or from us – are the hundreds or maybe even thousands of people who are still alive because we were there for them. For us, it is a great joy to be able to say, "If these people can continue to celebrate Christmas with their families, it's because of us!" After all, we have already completed over 50,000 missions.
I would like to emphasize that I am especially proud of my team. LAR is a team of remarkable professionals who regularly risk their health and sometimes even their lives to save the lives of others. They are highly qualified and experienced, and ensure the smooth running of emergency operations. I am proud to say they make the difference!
Last but not least, we are all also very honoured to have achieved worldwide recognition for our professional and competent work in the field of repatriation – the Award for Best Air Ambulance Service Provider worldwide!
What risks and challenges does LAR face? And what is your strategy for facing those challenges?
LAR is known for adapting to new challenges and situations as rapidly as possible in order to better serve the needs of its members, patients and even the whole population.
A big strength of the LAR team, in this respect, is that we are always ready to think outside the box, even reinvent ourselves if necessary. In this way, we used the crisis to become yet more efficient and effective. The whole LAR Team – our people – has been key to our success during the crisis. Intensive communication and feedback between the different teams take place every day. We constantly monitor the actual situation and adapt our approach continually and flexibly in response to the evolving crisis. It goes without saying that we are absolutely committed to ensuring a safe working environment for our staff, as well as safety and quality of care for our members and patients. One of our main challenges and responsibilities today is to avoid, at all cost, any needless, further spread of the pandemic.
To give you another example: in this current worldwide crisis, it is obvious to us that – as the largest organization in Luxembourg, with over 180,000 members, that we have to come to the aid of the whole population.
So, we offered the Ministry our help by providing one of our hangars and our staff to them so that they could open an additional vaccination centre. We employ specialists in the field of emergency rescue and are, so to speak, predestined to carry out the vaccinations with our own medical team and in collaboration with the 'Haut-Commissariat à la Protection Nationale (HCPN)'.
How has the COVID pandemic impacted the LAR business model?
Special situations, such as tackling the highly contagious Corona virus, require special measures and one has to be on constant alert in what is a fast-evolving situation.
The Ebola crisis of 2015 in particular gave us a very valuable lesson in the transport of highly infectious patients. One good example is the development by our medical team of the tent-like Infectious Disease Unit (IDU) for the safe transport of Ebola patients. The IDU has since been quickly adapted for the transport of patients with COVID-19.
Despite the fact that we already had much of the equipment we needed for the transport of highly infectious patients, we decided to invest in a so-called "EpiShuttle" to better protect the crew, as well as our members and patients. In addition to the IDUs, two additional Isolation Chambers have been purchased with the kind support of the COVID-19 foundation, under the aegis of the Fondation de Luxembourg, for the transport of highly infectious patients in our ambulance jets. Our medical team decides on a case-by-case basis, depending on the patient's condition, which isolation system is the most suitable.
One can say that we have "used" this crisis to improve the way we work and to become even more efficient and effective than we were. The health situation and the geographical spread of the pandemic have made us think about what equipment we will need in the future. The crisis has made us realize that we needed to rethink our fleet, which currently consists of six aircraft and six helicopters. We decided to sell two of our Learjets to finance the purchase of a much larger Challenger 605.
The Challenger has twice the range of the Learjet, meaning that fuel stops every 4,500 kilometres are no longer necessary. That's a big advantage, especially during pandemic times when it is difficult to get landing permissions because of having highly infectious patients on board. The aircraft also has a "berth" compartment, allowing it to operate with a double crew. This will enable us to pick up a patient and transport him back in one journey, without needing to overnight, so providing an even better service to our members and patients!
I am very proud to say that in December 2020, we were honoured to receive the Adenauer-De Gaulle prize for contributions towards Franco-German friendship, in recognition of our work transporting COVID-19 patients from the overcrowded hospitals of France's Grand Est to intensive care units in Germany. When it comes to air rescue – there are no political borders!
How can people become LAR members, what does it cost and what are the benefits?
Each single member shows solidarity and helps to maintain a safe and high-quality air rescue service in Luxembourg. As a token of gratitude, we offer them free repatriation in the event of a medical emergency from anywhere in the world. In other words, as an LAR member you can travel at ease, knowing that you are not alone. You can rest assured that our experienced and expert personnel are there for you, day and night. Our experts from the 24/7-operated emergency centre will attend to you quickly and competently in the event of a medical emergency abroad.
To become a member, you can contact our member office by phone +352 48 90 06 or by e-mail info@lar.lu. You can also subscribe via our website: www.lar.lu.
Membership starts at 65€/year for a single person and is 115€/year for a family.
It is very important to highlight that, without our members, who have put their trust in us from the beginning and supported us with their membership fees and donations, Luxembourg Air Rescue would not exist today. LAR belongs to the people of Luxembourg and not to René Closter. I can only express my deepest gratitude to them on behalf of our entire team.
What do you hope LAR will look like five years from now?
Our vision for the future is still the same: to be one of the best in the field of air rescue and medical repatriation and to serve our members and patients.
We set a very high standard of quality, which very few organizations around the world can match.
I like that we reinvent ourselves every day and continue to grow as a business in a responsible and sustainable way and I am confident that we will succeed in further establishing ourselves as a top-ranked rescue, emergency medical aid and humanitarian relief organization, and as an exemplar of European and international collaboration – at its most effective.
Just as vital, we will remain as passionate about our life-saving work as we were when we started in 1988. That passion has driven our success. We will keep that spirit alive.
Amcham would like to thank René Closter, Antje Voss and Daniel Martin for all their help with this interview
Luxembourg Air Rescue celebrates 33 years of Excellence, see this amazing video here: https://youtu.be/5H5cH9pzsSE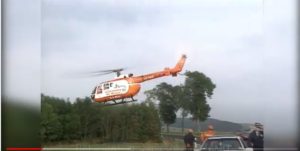 Amcham recommends to our Members to please think about becoming a member of Luxembourg Air Rescue A.s.b.l, you never know it could save your life one day!!! Join here: https://www.lar.lu/en