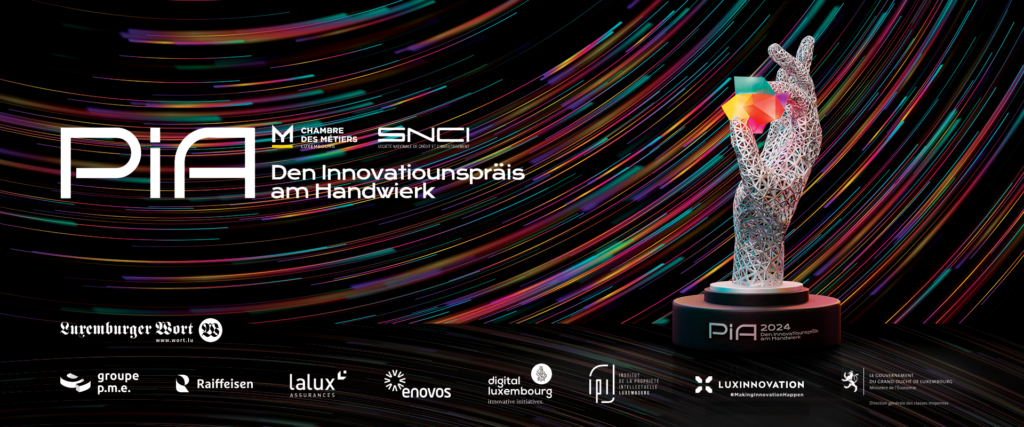 Luxembourg's skilled trades and craft companies are invited to submit their innovative projects for the 8th edition of the Skilled Trades and Crafts Innovation Award!
Organized by the Chamber of Skilled Trades and Crafts, in partnership with the Société Nationale de Crédit et d'Investissement, and with the support of Banque Raiffeisen, Innovative Initiative-Digital Luxembourg, Enovos Luxembourg SA, Groupe PME, Institut de la Propriété Intellectuelle Luxembourg, Lalux Assurances, Luxinnovation GIE and the Direction Générale des Classes moyennes of the Ministry of Economy, the prize rewards excellence in five categories of innovation.
Eligible companies are encouraged to submit innovative projects they have implemented within their company in the last three years, and which fall into one or more of the following five categories:
1. PRODUCT/DESIGN
Skilled trades and crafts companies that have developed a new product to meet market demands, regulatory changes, or customer desires, as well as those introducing new designs for existing or new products, are eligible in this category.
2. INNOVATIVE SERVICE
Skilled trades and crafts companies that have launched a service in response to customer demand, new technology, or through innovation are encouraged to enter this category.
3. PRODUCTION PROCESS/SYSTEM
Skilled trades and crafts companies that have enhanced their production using new technologies or systems, which have led to improvements in technical processes, including the integration of environment-friendly practices, are encouraged to apply this category.
4. MARKETING/COMMUNICATION
Skilled trades and crafts companies that have developed unique approaches in marketing and communications that set the business or its products apart, are encouraged to submit projects in this category.
5. MANAGEMENT/ORGANIZATION
Innovations in business management or organization that lead to streamlined and more efficient operations, including international expansion, structural changes, or digitization processes, are acknowledged in this category.
Submit your application by December 31, 2023, to be considered for the award. Two finalists from each category will be selected in spring 2024 to compete for the grand prize.
The winners will be announced at the award ceremony on May 16, 2024, at the Philharmonie, with the grand prize recipient receiving a 7,000-euro cheque, the PIA 2024 trophy, and significant media exposure.
For further details and to submit your candidacy, please visit https://innovation.cdm.lu/.
Seize the opportunity to elevate your business and join a legacy of innovators in Luxembourg's skilled trades and crafts sector.