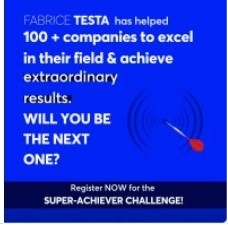 Fabrice Testa is organizing the Super-Achiever Challenge. Don't miss it!
✅ Do you have a big bold dream you want to materialize this year?
✅ Are you feeling lost with your startup or your project?
✅ Do you think that you have not reached your full potential yet?
👉🏻 Then, register NOW for The Super-Achiever Challenge on 20-21-22 May 2022. This is totally FREE.
👊🏻 During 3 days (max 1 hour each day), you'll be challenged to get the right mindset, the cutting-edge strategies and tactics and a proven framework to materialize bold ideas, build a breakthrough venture or achieve anything you want, and become a super-achiever!
💥 Day 1: How to be the entrepreneur of your life
💥 Day 2: Appy the Super-Achiever model
💥 Day 3: Make anything possible