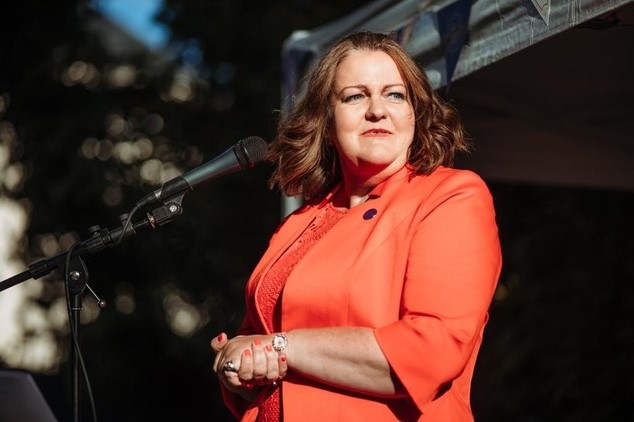 Fleur Thomas was accredited as Her Majesty's Ambassador to Luxembourg for Great Britain and Northern Ireland in April 2021. The Ambassador represents His Majesty The King and the UK government in the country to which they are appointed. They are responsible for the direction and work of the Embassy and its Consulates, including political work, trade and investment, press and cultural relations and consular services.
AMCHAM: Please tell us about yourself and your career background so we can better understand who you are and the value system which guides our decision-making process.
AMBASSADOR THOMAS: I was born on the Isle of Wight and grew up in the South of England. As some people might already know, I have worked in several different industries, including surveying, aviation, higher education, defence and finally foreign affairs; my career background is nothing if not diverse. Most recently, I held the post of Head of Exports in the Ministry of Defence, experiencing first-hand the vital difference both equipment and training can make to a nation's sovereignty. I am glad that as His Majesty's Ambassador to Luxembourg, I can now represent a government which works closely with our international partners and Ukraine to coordinate our collective support for Ukraine's defensive needs. As a senior diplomat in the FCDO, I try and use my position to support others and am involved with the FCDO's social mobility network and the FCDO women network as well as being an ally to the LGBT+ network in Europe.
Please explain the details of the involvement of the UK in supporting Ukraine with regards to military equipment transfers, training of Ukrainian personnel, intelligence support and humanitarian assistance.
As we have stated from the first day of the unprovoked and barbaric attack against the sovereign democratic state of Ukraine, the UK and our international partners stand united in condemning the Russian government's actions. As a free and democratic country, Ukraine has the right to determine its own future. To ensure the security and defence of all our allies, we will continue to work together to make sure that Russia cannot further undermine European stability.
Since that fateful 24th of February 2022, the UK's total military, humanitarian and economic support pledged has amounted to over £4 billion. The UK was the first European country to provide crucial lethal aid stalling the Russian advance. To date, we have provided Ukraine with thousands of short and long-range air defence systems and missiles, to help them protect their critical national infrastructure. We have also provided 14 Challenger tanks, almost 200 armoured vehicles, Sea King helicopters, thousands of anti-tank missiles, anti-structure munitions, 4.5 tonnes of plastic explosives, and a variety of artillery including 64 howitzers and much more. The list is exhaustive, so I won't go into detail, but the equipment geeks among your readers might find the below list on the military support provided to date useful:
A squadron of 14 Challenger 2 tanks
AS90 self-propelled guns
Hundreds of armoured and protected vehicles, including Bulldog and CVR(T)
a manoeuvre support package, including minefield breaching and bridging capabilities
More than 10,000 anti-tank missiles (including NLAW, Javelin, Brimstone, and other anti-tank weapons)
Multiple Launch Rocket Systems
Six Stormer vehicles fitted with Starstreak launchers, along with hundreds of missiles
Maritime Brimstone missiles
AMRAAM missiles, which can shoot down cruise missiles, for use with the US NASAMS air defence system
200,000 rounds of artillery ammunition, nearly 3 million rounds of small arms ammunition, 2,600 anti-structure munitions and 4.5 tonnes of plastic explosive
More than 82,000 helmets, 8,450 sets of body armour, medical supplies and more than 5,000 night-vision devices.
More than 28 M109 155mm self-propelled guns
36 L119 105mm artillery guns and ammunition
Over 2,000 unmanned aerial systems (including hundreds of loitering aerial munitions)
Six autonomous underwater mine-hunting vehicles
Counter-battery radar systems and communications equipment
Electronic warfare equipment
Medical equipment and 25,000 sets of winter clothing
More than 120 logistics vehicles
Additional 1,000 surface to air missiles
Sea king helicopters
125 anti-aircraft guns
Counter-drone capabilities
an equipment support package of spares to refurbish up to a hundred Ukrainian tanks and infantry fighting vehicles.
But we do not only provide lethal aid; you will see from the list that the deliveries have included tens of thousands of helmets, sets of body armour, night vision devices and over 25,000 sets of winter clothing to support the brave defenders of Ukraine during the winter.
In addition to this material support, the UK is training Ukrainian service people to operate all the technologies provided. Including Armed Forces of Ukraine personnel who have received specialist training in the UK on equipment, a total of over 11,000 AFU personnel were trained in the UK during 2022; with an ambition for up to 20,000 in 2023. At the end of March, Ukrainian tank crews completed training on Challenger 2 tanks in the UK and returned home to continue their fight against Russia's illegal invasion.
What about fighter jets?
In addition to the above, we want to ensure that Ukraine is able to defend itself long-term, fighter jets are just one part of the air defence picture. Our Prime Minister has tasked the Defence Secretary with investigating what jets we might be able to give, but this is a long-term solution rather than a short-term capability, which is what Ukraine needs most now. That's why we've been working to bolster Ukraine's defences through our provision of surface-to-air missiles and capabilities like Starstreak to help Ukraine defend its skies. We have also offered to train Ukrainian pilots to fly advanced fighter jets. We are finalising this training plan with our Ukrainian partners and we expect training to start shortly.
I'd like to reiterate that the UK and other nations are providing the means to Ukraine to defend itself. Putin and his regime bear sole responsibility for the war in Ukraine. The Kremlin can end this war immediately if they choose to.
What is the status of the transfers of Challenger tanks and in what ways will these tanks be a game changer for the conflict?
The Armed Forces of Ukraine will soon be able to operate 14 British Challenger tanks on the battlefield. Their delivery represents a step change in our support against Russia's indiscriminate violence against civilians in Ukraine.
Over time we have developed a better understanding of the needs of Ukraine, the capacity of the British defence industry and the complementary capabilities of our international partners. We are now using that knowledge to accelerate our support so Ukraine can seize this window of opportunity.  
In addition to Challenger tanks, AS90, large self-propelled guns, will follow; one battery of eight will be immediately battle-ready and three further batteries of varying states of readiness will be provided to the Ukrainians to refurbish or exploit for spares.
In what regards does the UK view Luxembourg as both a partner and as a  competitor with regards to  financial sector activities?
In these times more than ever, we must come together for a common goal rather than spend precious resources on competing with each other. Luxembourg is a key ally to the UK on financial services and has a robust service-based economy, with financial services accounting for over 30% of the total GDP. Our respective financial hubs compliment, rather than compete with each other, and we value this close relationship through war and peace times. Working in collaboration in this way also allows both our sectors to work together on challenges such as implementing sanctions or stopping illicit finance and terrorism.
The views and opinions expressed are those of the authors and do not necessarily reflect an official policy or position of AMCHAM.lu. Any content provided by our interviewees are of their opinion, and are presented in their own words.